Granite memorial with vase
This grave allows a total of two burials of cremated remains in front of a sloping granite memorial.
Available in: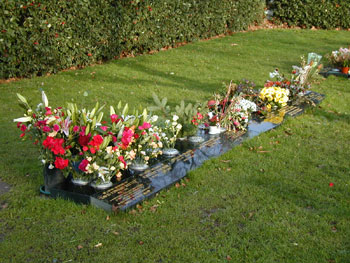 About the plot
The burial of cremated remains takes place in the grassed area in front of the memorial. The plot allows up to two interments of cremated remains. You may wish to have the cremated remains buried in a casket or buried loose. You could also use the eco box provided by the crematorium.
Memorials
The memorial is made of black polished granite and allows for an inscription of up to 120 characters. This memorial must be purchased through the cemeteries office. The inscription is sandblasted and gilded.
If you do not use the entire face of the memorial for the first inscription, you will be able to add an inscription if a second burial of cremated remains takes place. The cemetery office can obtain a quote on your behalf or you can contact a mason of your choice. If no room for a further inscription had been left, the cemetery office will provide you with a quote for a new memorial showing both inscriptions.
A flower container is provided with each memorial (we do not allow other flower vases, pot plants or memorialisation). The responsibility of maintaining the memorial is that of the owner. However, as the memorial is made from polished granite, little maintenance is required. To keep the memorial clean, you will just need to wash it down occasionally with clean water.
Apply
To apply to bury cremated remains, download the Notice of internment of cremated remains

 (pdf, 70 KB), complete it and send it to the cemetery office. We will hold the form until a mutually convenient date and time can be arranged. 
To apply for a new memorial, download the Application for approval of a new memorial

(pdf, 164 KB) form.
You can download the memorial application form

(pdf, 24KB) and guidance information

(pdf, 23KB).