RISE activities for adults
COVID-19: Sports update - September 2021
We are currently following step 4 of the government roadmap. We are also following industry guidance and adopting a cautious approach to the reopening of services.
View the step 4 changes that will be taking place in our sport and fitness centres.

RISE provides a varied programme of activities for people of all ages with special educational needs and disabilities. View activities for young people.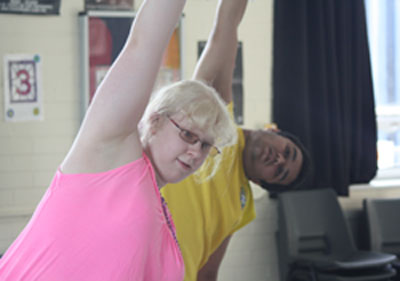 Current activities
We are currently running canoeing and dance classes. All other activities are suspended.
If you have any enquiries or wish to sign up for these virtual classes, please contact rise@richmond.gov.uk.
Fusion Dance (virtual)
Fun and energetic dance sessions with Anne-Marie from Combination Dance which will increase fitness, mobility, self-confidence and teamwork. Performers will learn choreographed dance routines to a variety of music genre. Sessions take place on Monday evenings.
Canoeing
Canoeing sessions with Lesbury Watersports Centre. A great opportunity to try out a variety of different boats and enjoy freedom on the water.
Activity details:
Wednesdays from 4.30 to 6pm
Age: 8+ 
Venue: Lensbury Water Sports Centre, Broom Water West, Teddington
Price: £15 per person per session
Other activities (not currently running)
Football
Supported by Kew Park Rangers (KPR), a local Charter Standard Community Club, footballers aged 16 years+ practice a variety of techniques and skills to develop their agility, balance and coordination. KPR encourage players to join in competitively and socially. A team play in the Surrey Football For All League.
Parents/carers are welcome to stay, watch or take part.
Age: 16+
Time: 12 to 1pm
Venue: Hampton Sport and Fitness Centre, Hanworth Road Hampton, TW12 3HB.

Multi Sports
A fun introduction to the basics of a variety of sports, including basketball, cricket, hockey and tennis, all adapted to suit every age and ability. Sessions are led by a Disability Sports Coach (DSC) and develop fundamental movement skills; running, hopping, throwing, catching and jumping. These skills give athletes the confidence to take part in the sports offered, adding an element of competition when appropriate.
Trampolining
Using one bed, gymnasts develop body awareness and core stability whilst learning technique. Gymnasts are encouraged to use a variety of movement to express their own individual personalities. A maximum of 6 participants per session.
Wheelchair Basketball
Supported by Richmond Knights Basketball Club, athletes learn how to play wheelchair basketball using games and drills to teach technique. The session is adapted for all abilities using specialist equipment. Sports wheelchairs are supplied. Opportunities for competitive games are available.
Venue: Waldegrave School, Fifth Cross Road, Twickenham, Middlesex, TW2 5LH
For more information, please email office@knightsbasketball.co.uk, call 020 8797 0477 or visit www.knightsbasketball.co.uk/bookings
Wheelchair Rugby
Wheelchair rugby sessions for people aged 15 years or older.
Applications
All participants of RISE must complete a consent form to take part in activities. The application form for RISE activities can be completed online or downloaded. 
Contact us
For any further information about RISE, inclusive and disability specific sport or exercise activities.
Sports Development Team
Civic Centre
44 York Street
Twickenham
TW1 3BZ
Telephone: 020 8831 6134
Email: rise@richmond.gov.uk
Our office opening hours are Monday to Friday, 9am to 5pm.
Sign up to our Sport in Richmond Newsletter
Leisure discounts
Did you know you could receive discounts for many RISE activities with the Leisure and Youth Richmond Card for under 25s or the Richmond Card leisure subscription?