Play Streets
Residents can apply to close their road on Saturday 23 and Sunday 24 September 2023 to create space for children to play. To celebrate Car Free Day and encourage celebrations we are waiving the usual administration fees for street parties.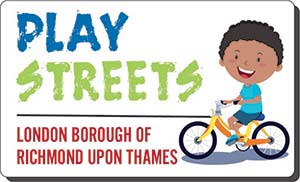 How Play Streets work
Councils can use their existing powers under road traffic legislation to allow temporary street closures.
Local parents and other residents act as marshals, allowing their neighbours to drive to and from their homes at walking pace, while through traffic is re-directed.
The benefits of hosting a Play Street
There are benefits to closing a residential road, which include:
Allowing children to play close to home
Giving children the space to play safely
Increasing a sense of community by bringing neighbours together
Encouraging more activities to take place in the local area
Micro grants
We are offering small grants of up to £50 which can be spent on play equipment or refreshments (excluding alcohol) on the day. This grant is only available for the first 30 play streets so get your application in early!
To apply for our £50 grant, email the team on transportation@richmond.gov.uk. Once approved, you can submit any receipts to us to claim your £50 grant.
Apply for a street party
To host a Play Street party during Car Free Day, you will need to complete our online application form.
Applications must be submitted by Thursday 31 August 2023 for September 2023 events.
Get free equipment
London Play is offering free spacehoppers (or other play equipment) to the first 100 streets that apply. Also, everybody signing up will go into a prize draw to win a free go kart build and race workshop to be run on their event. Find out about Car Free Day 2023. 
Helpful templates
The templates below will help you organise your Play Street: