Chapel services suspended
Chapel services are suspended until ongoing health and safety risk reviews are concluded. You can continue to book graveside services.
This type of plot allows up to a total of four burials in a small grave, which can be marked with a garden space or a small memorial.
Available in: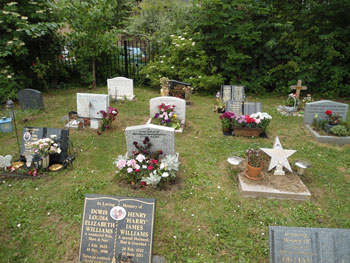 About the plot
The plot is a smaller version of a traditional grave. There is a space in each plot for up to four interments of cremated remains; the cremated remains may be buried loose, in a wooden casket or in an eco box (only biodegradable containers can be used).
Memorials
You can choose to have a one of the following types of memorials on this section:
Plaque
Headstone
Headstone with kerbs; or
Plant the grave space
The maximum height of any memorial placed on the grave is 18" and it should be no more than 2ft square. Any planting or memorabilia placed on the grave must be within these sizes.
View the sections
Contact the Cemeteries Office to make an appointment to view the sections. Alternatively, a map of the cemetery can be sent to you, with the family cremated remains plots highlighted, so that you can visit the cemetery in your own time, to see if the areas are suitable.
Fees and forms
We have different fees and charges depending on whether you are burying remains in an existing family plot or purchasing a new one. There are also separate charges for applying memorials.