We have non-pathside and some pathside graves available in the lawn sections. Pathside graves are a higher price as they are more easily accessible.
Available at: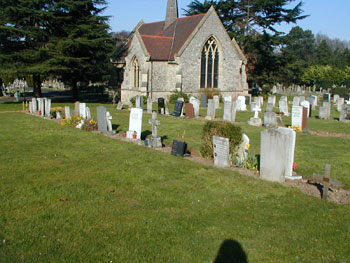 Burials
Each grave can be prepared to allow up to two full burials. There are some graves available in Teddington Cemetery and Twickenham Cemetery that will allow up to four full burials. If no further full earth burials are required, up to eight cremated remains can be placed in the grave space. A fee (applicable on the date of the burial) is payable for each subsequent burial.
The lawns, once established, are neat and tidy and provide a grave for you which is easy to maintain. In some sections there is an area, twelve inches wide, at the head of the grave, which is left to either place a headstone or flowers. It is not permitted to plant or place anything on the actual grave space.
Turf is laid over the grave space approximately six months after a full earth burial has taken place. After a cremated remains burial has taken place, the turf is replaced immediately. If you would prefer to plant the grave area, or have a memorial with a kerb surround, you may wish to consider choosing a grave in a traditional burial area.