The Council has partnered with Peddle My Wheels to enable businesses and residents in the Borough to hire a bicycle, e-bike, cargo bike, e-cargo bike or trailer. The scheme includes:
A brand new or nearly new bike for a monthly fee
The fee (which includes lights, lock, helmet) is fully refundable if you buy the bike
FREE maintenance call out for your peace of mind
If you fall in love with your bike buy at a reduced price, set up a payment plan or use the Cycle to Work scheme
Bikes are delivered by qualified cycle instructors who can give you advice and pointers during your free induction
See the Peddle My Wheels website to find out more.
Case Studies
See how eCargo bikes are already being used in the Borough.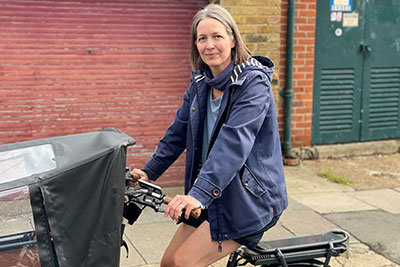 "I've wanted to have a cargo bike for a long time, but I had no opportunity to try one so I wasn't sure if they were right for me. The council scheme – Peddle My Wheels - made it possible for me to trial an electric Babboe Curve for three whole months, and I was hooked. I mostly use it on the school run, making our 30-minute walk in 11 minutes door to door, and with the addition of a rain tent for my 8-year-old and rain trousers/overshoes for me, we make this trip twice every day, in all weather.
The odometer is showing 240 miles for the past year, so those trips do add up, even with the lockdowns we had. My bike has also proved very useful in transporting a 77x77cm Ikea bookcase, two 50-litre bags of compost, and once, half the things we needed for a film shoot (the other half went in our car). The maximum cargo weight is 100 kilos, so I have used the bike to ferry my tween and teen daughters to their orthodontist appointments and I regularly do the weekly supermarket shop with it. It's great because we're never stuck in traffic, we can always find a place to park, and it's also environment friendly." Bori Kiss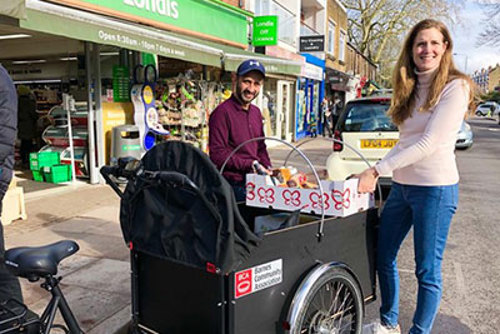 Barnes Community Association facilitate a shared e-cargo bike amongst businesses in Barnes. Emma Robinson, Barnes Town Centre Manager says, "The business that is currently using the bike has found it very useful for their local deliveries which were previously done by car. Many of these deliveries are to elderly people who live very close to the store so using a bike makes much more sense than a car. The business has also benefited from the positive profile of using a cargo bike which has been seen in action on the streets and parked outside the shop."