Ham Village Green
Ham Street, Richmond, TW10 7HW Map
Ham Village Green is a well utilised green space nestled in the heart of ham that provides a focal point for local residents.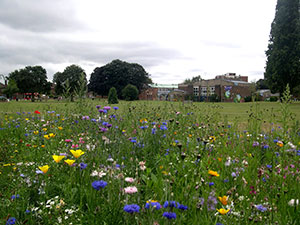 Ham Village Green has been developed as one of several accessible Friendly Parks for All in the borough with an accessible waymarked path around the green.
About the park
A wildflower meadow and spring bulbs add colour to the green through the seasons and the playground and fitness equipment is popular with young and old.
Facilities include:

Visiting the park
Ham Village Green is accessible at all times. The nearest train stations are Kingston and Richmond, and the area is also served by the bus route 371.