Carlisle Park
Wensleydale Road, Hampton, TW12 2UL Map
This popular park is named after George James the 9th Earl of Carlisle who was a keen artist.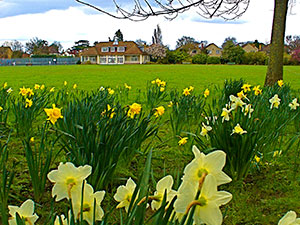 About the park
Well planted with mature trees, shrubs, and flowerbeds, this large park boasts facilities including:
Bowling Green
Car parking
Changing rooms
Cricket pitch
Three junior football pitches
Seven tennis courts 
Toilets
Play area
Friends of Carlisle Park
If you would like to become involved in the park or find out about the projects Friends of Carlisle Park are working on, then please visit the Carlisle Park website.
Contact details:
Friendly Parks for All activities
Carlisle Park has been developed as one of several accessible Friendly Parks for All in the borough. 
As a designated Friendly Park for All, there is a sensory tree trail

(pdf, 1.6 MB) which can be completed at the park to allow visitors with accessibility barriers to connect with their environment.

Visiting the park
Carlisle Park is locked at night. See parks opening times for information about when the park is accessible.
The nearest train station is Hampton, and the area is also served by the bus route R70.
Updated: 23 November 2021