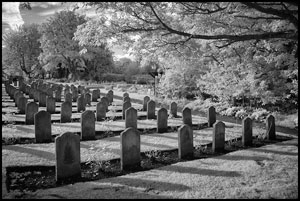 About the Royal Star & Garter Homes Charity
The Royal Star & Garter Home, an independent registered charity based in Richmond, has been caring for disabled ex-Service personnel since 1916. The Charity offers the best in home care and nursing, plus a range of therapies for service men and women and their partners. There are also a wide variety of leisure activities available for the residents to enjoy, both inside and outside the Home.
In future years, The Royal Star & Garter Charity intends to build new homes, in the Richmond area and elsewhere, in which to provide specialist care for the elderly disabled, and for those with dementia for whom there is very little provision at present.
For further information, please telephone the Royal Star & Garter Home on 020 8439 8000, or visit www.starandgarter.org
Star & Garter section plots
There are two plots in the cemetery which are specifically for ex residents of the Royal Star & Garter Home.
One plot is easily recognizable by the Bromhead Memorial. The memorial was erected to commemorate residents who have died at the home. It was a gift from the Bromhead family, dedicated to Lt. Col. A.C. Bromhead, CBE.JP, a former Governor, to his wife, and also to Mrs Margaret Bromhead, a former matron and Governor. The memorial was designed by Mr Cecil Thomas OBE,FRCS, and was unveiled in October 1957 by the President of the Home, Field-Marshall Lord Alanbrooke, and was dedicated by the Bishop of Southwark.
The second plot was started in 1994. A local memorial mason donated the elaborate Christian cross which stands in the centre of the plot. Ex service men and women who die at the Royal Star & Garter Home can be buried in either section.