Help protect our high quality special needs education
There are 3,625 children and young people attending schools in Richmond upon Thames with special educational needs. A further 1,496 children and young people in the borough require Education Health and Care Plans.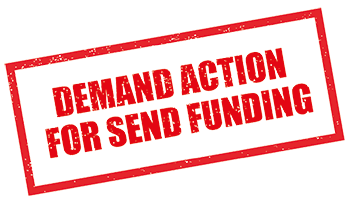 There is a funding gap
The Government's chronic underfunding of special needs education will see the in year funding gap rise from £3 million in 2017/18 to £9 million by 2021/22. A cumulative debt of £26 million is expected by March 2022 even after actions identified to improve efficiency.
The Government cannot continue to rely on our teachers, parents and children to plug the funding gap for them. There is only so much belt tightening ourselves and schools can do before the services our children rely on are severely impacted.
Join our call for adequate funding
Join us in the fight to protect quality special needs education in the borough and tell the Government to provide the funding our children deserve.
Tell the Government to adequately fund special needs education for the borough's children now and send an email to the Secretary of State for Education. 
Please note this email will be sent to Secretary of State for Education, Gavin Williamson's Member of Parliament email address, it does not get sent to the Department for Education. You may wish to also contact the Department for Education separately using their website contact DfE online.
SEND - The real picture
A parent's story
Orleans Park School
Clarendon School
News
Videos

Updated: 30 November 2021