Chapel services suspended
Chapel services are suspended until ongoing health and safety risk reviews are concluded. You can continue to book graveside services.
If you would like to have a memorial bench placed in a park or open space in memory of a loved one you can purchase an engraved bench or bench with a plaque and donate it to Richmond Council who will maintain it as a public bench.
Donating a seat in a park
You can contact us to make an enquiry about donating a memorial bench. It will assist our enquiry if you have a location in mind as we will be able to look into the availability of that site. Currently our preference is to replace non-dedicated benches with new memorial ones, although we will consider requests for new locations in all sites, if appropriate.
There are restrictions on the style and the placement of a memorial bench, with some sites already having a high concentration of seating. 
The following locations are currently at capacity:
Barnes Green (around the pond)
Ham Common
Richmond Green
Richmond Hill
Richmond Little Green
Richmond Riverside (between Buccleuch Gardens and Bridge House Gardens)
Terrace Gardens
Terrace Fields
Twickenham Riverside (between Orleans Gardens and Cambridge Gardens)
It may not be possible to have your preferred location; but we will consider all requests and try to find a suitable site. Some locations may also require approval from third parties.
Please note that once your donated bench has been installed, it becomes the property of the Council and we reserve the right to remove if we deem it to be unsafe for use in a public setting.
External sites
We do not manage the following parks so you must contact them separately for any similar request:
Types of benches
We offer oak benches along with the choice of a stainless steel plaque, cast bronze plaque or engraving for the inscription.
Depending on the choice of inscription, a memorial bench can cost between £1,200 and £1,400. Once location and wording has been finalised, our supplier will provide a proof and quote for approval. Due to increased interest and resource availability, there will be a 14-day period of validity for proofs and quotes. To assist with the process please consider your choice of wording for the inscription from the outset.
Each bench is made to order, and construction will only start when payment has been confirmed by our supplier. We will issue you with an order number and details of how to pay once the order has been confirmed. Delivery is included within the quote and we will pay for the installation once the bench has been delivered. Delivery is estimated at 12 weeks from receipt of payment, our contractor aims to install the bench within 3 weeks from delivery.
Please note that only text inscriptions are permitted, and graphics will not be allowed. Final approval of text will be made by Parks Service Manager to ensure is suitable for use in a public open space.
Bench removal
In the event that your donated bench falls into disrepair, is damaged or is unsafe for public use then we will need to remove it from the park or open space. We will endeavour to contact the family members on our database to inform them of the situation and seek clarification as to whether the family intend to donate a replacement bench. If the family decline or if we have no response, then we reserve the right to offer the space to another family. We will afford the family a period of four to six weeks to make a decision regarding a replacement.
We will keep a database of contact details for each family, however if these are to change for example due to moving address, please contact us to update your details.
Each bench that is donated to the Council becomes Council property and we reserve the right to remove or relocate a bench if deemed a hazard in a public setting.
We thank you for your donation of a memorial seat.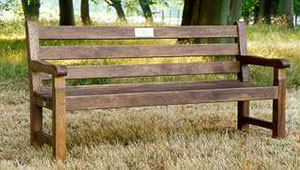 Contact
For further information contact the Parks Team:
Telephone: 020 8891 1411
Email: parks@richmond.gov.uk