Once you have agreed the design of the memorial, and the wording to be inscribed, you will need to send a completed memorial permit application form

(pdf, 62KB) to us. There is an application fee to pay and your mason will advise you of this along with your estimate.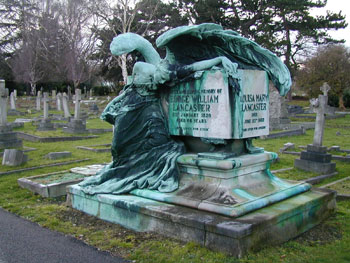 Who can authorise work to a memorial?
If you are the registered grave owner, you must sign a memorial permit application form to authorise work on a memorial. If the owner is deceased, and work such as renovation and/or an additional inscription to a grave is to be carried out, then the next of kin can authorise this without a transfer.
If there is no memorial on the grave, or the existing memorial is to be altered in some way, then a new owner must be registered.
More about transferring grave ownership
Access to graves
Sometimes a grave may need to be re-opened and, to be able to excavate the grave, nearby memorials may need to be moved. There are several reasons for moving nearby memorials; they are:
To gain access.
To protect the memorial from damage.
To protect cemetery operatives from potential health and safety risk.
To avoid delays to funerals, prior notice may not be given.
More about memorial regulations
Memorial safety
Under current UK Health and Safety legislation, it is a requirement that suitable inspections are conducted in all burial grounds in the UK.
Inspections are carried out by experienced operatives and will be carried out sensitively, in accordance with our Memorial Safety Policy

(pdf, 637 KB) and national guidance. The impact of inspections should hopefully be minimal, however, there will be occasions where memorials are found to be unsafe.  Where found unsafe, we will take steps to make them safe, which may involve re-jointing memorials, setting memorials in the ground or, where necessary, laying them flat. Where memorials are clearly visited, steps will be taken to try and contact family members to allow them to carry out a proper repair.
Updated: 29 September 2022