Twickenham Riverside development
We are committed to finding the right design for Twickenham Riverside so that residents and visitors can enjoy this beautiful area.

Background
In 2019 we ran a design competition to find an architect led team to bring forward a design for the Twickenham Riverside site. The team led by Hopkins Architects, and their concept design, were chosen by the Design Panel as winners of the competition.
The concept design presented to the public was then developed by the team throughout 2020, addressing some challenging technical requirements.
In January to February 2021 we ran a consultation seeking views on the developed design.
Current situation (September 2021)
The planning application has now been submitted proposing an exciting new development for Twickenham Riverside – one that hopes to end forty years of uncertainty.
Responding to the constructive feedback during the consultation, a number of changes have been made to the proposals.
These include:
An improved event space
Refining the open space and re-provided Diamond Jubilee Gardens, including increased green space where possible
Finessing the vehicular, pedestrian and cyclist movements on the site; including public toilets on the ground floor of the new Wharf Lane building
Further work on a river activity zone
As part of the planning process, a statutory consultation will be carried out. It is expected to go to Planning Committee later in the year.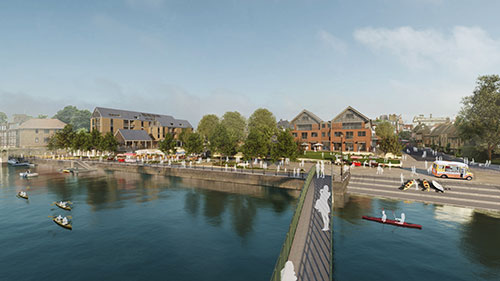 Aerial view of the proposed scheme
What are residents' frequently asked questions?
Find the answers to your frequently asked questions on this dedicated page, including questions asked at the online events.
Council's Compulsory 
Purchase Order
In order to deliver a comprehensive and cohesive regeneration of Twickenham Riverside we have made a Compulsory Purchase Order (CPO). 
View Council's Compulsory Purchase Order
Background information