The view from Richmond Hill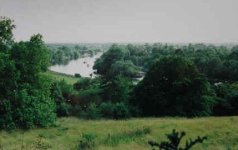 The celebrated view of the vale of the Thames from the summit of Richmond Hill has long been the inspiration of writers and artists, both native and foreign. James Thomson, the Scottish poet who lived in Kew Foot Lane, Richmond from 1736 until his death in 1748, refers to the view in Summer (1727), one of the poems from the cycle called The Seasons, giving the reader an indication of its extent:
"Here let us sweep
The boundless landscape; not the raptur'd eye,
Exulting swift, to huge Augusta send,
Now to the sister-hills that skirt her plain
To lofty Harrow now, and then to where
Majestic Windsor lifts his princely brow.
In lovely contrast to this glorious view,
Calmly magnificent."
William Wordsworth, in his sonnet June 1820 (1820), refers both to the nightingales for which Richmond Hill was once famous and are commemorated in the name "Nightingale Lane" and to James Thomson:
"Fame tells of groves – from England far away –
Groves that inspire the Nightingale to trill
And modulate, with subtle reach of skill
Elsewhere unmatched, her ever-varying lay;
Such bold report I venture to gainsay:
For I have heard the quire of Richmond hill
Chanting, with indefatigable bill,
Strains that recalled to mind a distant day;
When, haply under shade of that same wood,
And scarcely conscious of the dashing oars
Plied steadily between those willowly shores,
The sweet-souled Poet of the Seasons stood –
Listening, and listening long, in rapturous mood,
Ye heavenly Birds! To your Progenitors."
Visitors from overseas have been equally enraptured. One of these was Charles P. Moritz, whose impressions are recorded in his Travels in England in 1782:
"The terrace at Richmond does assuredly afford one of the finest prospects in the world. Whatever is charming in nature or pleasing in art, is to be seen here: nothing I had ever seen or ever can see elsewhere, is to be compared to it."
Probably the best description in a work of fiction appears in Sir Walter Scott's Heart of Midlothian (1818), in which the Duke of Argyle and Jeanie Deans stand on the "commanding eminence" and behold:
"A huge sea of verdure with crossing and interesting promonteries of massive and tufted groves,… tenanted by numberless flocks and herds, which seem to wander unrestrained, and unbounded, through rich pastures. The Thames, here turretted with villas and there garlanded with forests, moved on slowly and placidly, like the mighty monarch of the scene, to whom all its other beauties were accessories, and bore on his bosom a hundred barks and skiffs, whose white sails and gaily fluttering pennons gave life to the whole."
Practitioners in the field of the visual arts were never slow to make use of the view in their work. Some of these artists were, in fact, resident locally in Richmond and its vicinity. Such a man was Augustin Heckel (1690 to 1770), a German-born artist resident in Richmond from 1746 until his death. His View from Richmond Hill up the river became widely known after being engraved by Grignion. The same view was also painted by Joseph Farington (1747 to 1821) and engraved by J.C. Stadler.
Sir Joshua Reynolds (1732 to 1792), a painter not principally known for his landscapes, had an excellent view of the vale from the rear of his house, Wick House, on Richmond Hill. He painted the scene in about 1780.
The American landscape artist Jasper Francis Cropsey (1823 to 1900) lived for some time in England. His realisation of the famous vista was described in the Art Journal as:
" a large and important work…in which that favourite national scene of ours is treated with a most circumstantial fidelity and completeness of detail and, at the same time, with refined poetical feeling and brilliancy of effect which we have so often admired in the much varied productions of that artist."
One of the greatest of all English landscape painters, J.M.W. Turner (1775 to 1851) – who, for a time, had a country residence in Twickenham – exhibited his England: Richmond Hill on the Prince Regent's Birthday at the Royal Academy in 1819. This painting now hangs in the Tate Gallery, London.
Another artist who lived in the area and who did many paintings of the locality, including the Richmond Hill view, was Thomas Christopher Hofland (1777 to 1843), husband of the writer Barbara Hofland.
The attraction to artists of the view from the Hill has not diminished in recent times. In 1926, whilst he was staying in England, the Austrian-born artist, Oskar Kokoschka (1886 to 1980) painted Richmond Terrace, perhaps the most notable evocation of the scene by a contemporary painter.