Cycling courses for schools
Our team of instructors work all year round to provide cycle training to Year 6 pupils in all borough and some independent schools. Our courses follow The National Standard Bikeability training and take place during term time.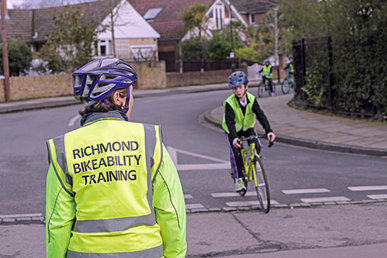 About the training
The week long course is taught predominantly on quiet roads. The aims are to:
Reduce casualties among child cyclists
Teach pupils how to ride safely on quiet roads
Help pupils understand the rules of the road
Show pupils how to look after their bikes
Encourage more cycling
The National Standard Bikeability cycle training is the new form of Cycling Proficiency. It differs in a number of respects from the Cycling Proficiency Scheme:
New cycle training is more realistic, and is held predominantly on the road
Children do not pass or fail cycle training, as all children who complete the course receive a badge and certificate. The training seeks to encourage children to gain further experience on quieter roads with adult supervision
All children are given personal feedback detailing areas for improvement
For further information please contact the Safety Education Team.