Council waives planning fee for Hammersmith temporary bridge
Release Date: 19 August 2020
Richmond Council has reinforced support for the quick delivery of a temporary pedestrian and cycle bridge following the complete closure of Hammersmith Bridge last week.
Councillor Alexander Ehmann, Deputy Leader and Chair of the Transport and Air Quality Committee, has written to Heidi Alexander, Deputy Mayor of London for Transport, confirming Richmond Council's intention to work collaboratively with Transport for London to ensure construction of a temporary bridge goes as ahead quickly as possible.
Councillor Ehmann also confirmed that Richmond Council, as one of the planning authorities for the temporary bridge, will reimburse the fee payable for the planning application.
"The full closure of Hammersmith Bridge has further underlined the importance of secure funding for the repair of this iconic structure. The Government are the only agency with the financial heft to be able to provide those much needed funds. The continued silence over the provision of these monies is building real resentment amongst local people. They feel that the Government have simply forgotten them."
"In the meantime, we believe that rapid progress toward the construction of a temporary foot and cycle bridge is now even more crucial for our residents. That's why we've done what we can to re-energise TfL's planning application by offering to reimburse our planning fees. The truth is that more money will be required to support the temporary structure's construction, but Richmond Council believes that we must keep up the momentum regarding this important lifeline for residents.
Hammersmith Bridge is owned and maintained by Hammersmith & Fulham Council. Due to severe structural issues, the bridge was closed in April 2019. Following a detailed investigation by a team of world-leading specialist engineers, TfL and Hammersmith & Fulham Council agreed on the future requirement of the bridge. The first stage of the restoration programme began, and TfL provided £25 million to pay for it. Early estimates indicate the wider work could cost around £140 million.
View the full letter

(pdf, 179 KB)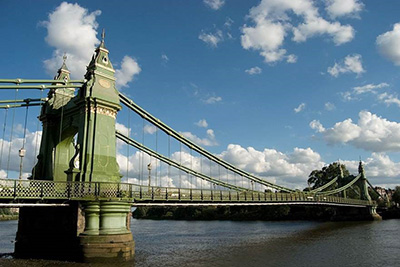 Notes for editors
If you are a journalist and would like further information about this press release, contact Effie Lochrane on 020 8487 5162.
Reference: P331/20
Updated: 09 September 2021