Council to host Hammersmith Bridge public Q&A for Richmond residents
Release Date: 23 February 2021
Richmond Council will host a virtual public meeting specifically for Richmond upon Thames residents to put their questions about Hammersmith Bridge to the Council Leader.
Councillor Gareth Roberts will be joined by a panel of senior officers from the Council, who will be able to answer residents' questions about the status of the bridge repairs and the measures Richmond Council are putting in place to lessen the impact of the closure for residents and businesses in Barnes and the rest of the borough.
The Q&A session will take place on Zoom, on Wednesday 17 March 2021, from 6.30pm. Residents must pre-register for the event, by 5pm on Wednesday 17 March.
Councillor Gareth Roberts, Leader of Richmond Council, who represents Richmond upon Thames on the Hammersmith Bridge Taskforce, said:
"Our residents and businesses are more impacted than anyone else by the closure of the bridge. The Council is doing everything in our power to lessen this impact, but we know that many people have many questions about the progress of repairs and the interim measures - both those we have put in place on the south side of the bridge, and those proposed by the Government, Transport for London and Hammersmith and Fulham Council.
"While Richmond Council has limited decision-making powers in the future of the bridge, but I hope that, along with senior officers from the Council, I will be able to update residents on the progress of various measures, including the ferry and a temporary bridge, and answer any questions they have."
The event is open to anyone. Those wishing to attend must register by 5pm on Wednesday 17 March 2021. Joining instructions will be sent to those registered in advance of the event.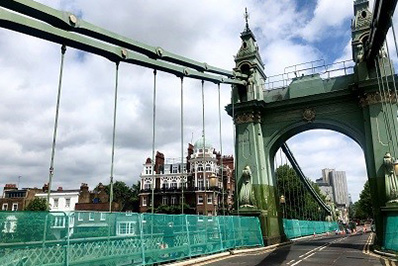 Notes for editors
If you are a journalist and would like further information about this press release, contact Effie Lochrane on 020 8487 5163.
Reference: P079/21
Updated: 07 February 2022