The Loggia room is located in York House, a seventeenth century Grade II listed building with a fascinating history.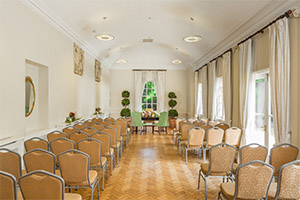 Why choose the Loggia Room?
The Loggia Room is Richmond upon Thames Register Office's licensed ceremony venue. Not all the stunning event venues in the borough are licensed for marriage or civil partnership ceremonies – the Loggia Room gives couples the chance to have an affordable, convenient and beautiful ceremony, before celebrating their day in their dream setting.
Ceremony venue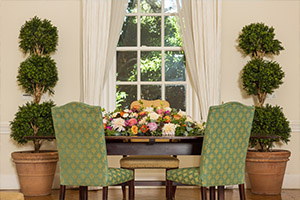 View more photographs in the Loggia room gallery.
Licensed for 75 guests excluding the couple and those working. Please note, we encourage couples to request their guests wear face coverings however this is optional.
The Loggia room overlooks a secluded garden at the rear of York House in Twickenham, set in beautiful grounds on the  banks of the River Thames.
The room also has a music system which can play CDs or iPhones and iPods. Alternatively, you may wish to arrange for a small group of live musicians to enhance your ceremony and atmosphere.
Ceremony format
Ceremonies are booked to start on the hour, and we allow an hour in total for your ceremony including completion of pre-ceremony paperwork checking.  
If you wish to maintain the tradition of not meeting until you meet at the start of the ceremony, this can be arranged – although please note that we cannot guarantee to keep you out of sight of all of your guests.
After the ceremony
Following the ceremony you can lead your guests directly out into the gardens for photographs. You are welcome to use confetti - but it must be biodegradable only, to preserve the beauty of the gardens for everyone.
It is not possible to serve alcohol in the Loggia room, or in the gardens.
Arrange a viewing
We are not currently able to do viewings of the Loggia Room as the building is only open for ceremonies currently. You can view pictures of the Loggia Room and other venues in our gallery or on our Instagram page.
Weekend viewing restrictions
The building is open on weekends and bank holidays for pre-booked ceremonies only. You are welcome to visit, however, if there are no ceremonies booked, the building will be closed. We cannot make appointments for viewings at weekends or bank holidays.
Contact us for further information regarding your ceremony.