Trafalgar Road
Conservation Area Appraisal
Conservation area no.10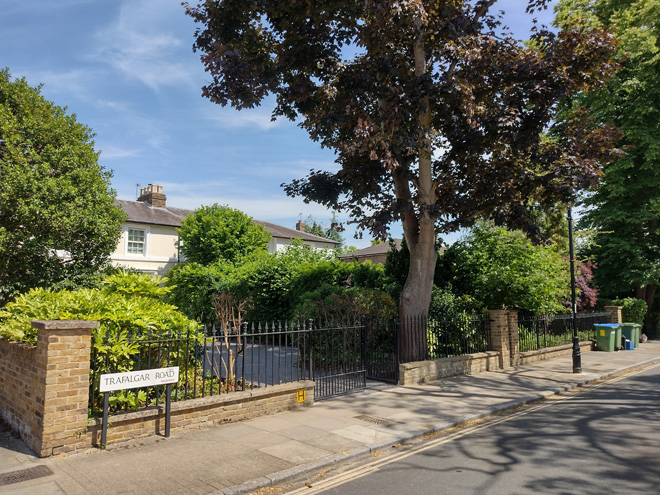 Contents
Part 1: Introduction
Outline of Purpose
The principle aims of Conservation Area Appraisals are to: 
describe the architectural and historic character and appearance of the area, which will assist applicants in making successful planning applications, and decision makers in assessing planning applications;

raise public interest and awareness of the special character of their area;

identify the positive features which should be conserved, as well as the negative features which indicate scope for future enhancements.
It is important to note that no Appraisal can be completely comprehensive, and the omission of a particular building, feature, or open space should not be taken to imply that it is of no interest. 
This document has been produced using the guidance set out by Historic England in the 2019 publication 'Conservation Area Appraisal, Designation and Management: Historic England Advice Note 1 (Second Edition)'. 
This document will be a material consideration when assessing planning applications. 
What is a Conservation Area?
The statutory definition of a conservation area is an 'area of special architectural or historic interest, the character or appearance of which it is desirable to preserve or enhance'. The power to designate conservation areas is given to local authorities through the Planning (Listed Buildings and Conservation Areas) Act 1990 (Sections 69 to 78). 
Once designated, proposals within a conservation area become subject to local conservation policies set out in the Council's Local Plan and national policy outlined in the National Planning Policy Framework (NPPF).
Our overarching duty, as set out in the Act, it to preserve and/or enhance the historic or architectural character or appearance of the conservation area. 
Buildings of Townscape Merit
Buildings of Townscape Merit (BTMs) are buildings, groups of buildings, or structures of historic or architectural interest, which are locally listed due to their considerable local importance. The policy, as outlined in the Council's Local Plan, sets out a presumption against the demolition of BTMs unless structural evidence has been submitted by the applicant, and independently verified at the cost of the applicant. Locally specific guidance on design and character is set out in the Council's Buildings of Townscape Merit Supplementary Planning Document (2015) which applicants are expected to follow for any alterations and extensions to existing BTMs, or for any replacement structures.
Map of the Conservation Area
Statement of Significance
The houses on Trafalgar Road date from the early Victorian period and were built c.1845. The Conservation Area encompasses a single residential street of mostly semi-detached houses with a varying degree of original symmetry. It is dominated by locally listed BTMs and two Grade II listed buildings.
There is a consistent scale and style of architecture, neatly containing two rows of semi-detached houses on either side of the street. The buildings, seen between trees, are villa style houses of the mid C19th with hipped roofs, deeply recessed eaves, painted stucco or stock brick walls, decorative architraves, entablatures and consoles typical of buildings built in the Regency and early Victorian periods.
The houses boast generous front and rear gardens, many of which are intact and well landscaped. The space between buildings is a very important component of the overall streetscape. The appearance is also very much dominated by its trees and shrubbery, especially in the summer months. Overall, the Conservation Area has a tranquil, suburban character.
Historic Development
This area of Twickenham was originally part of Hounslow Heath and until 1837, was held by the Manor of Isleworth and Syon, when it was still surrounded mostly by arable land. It was the first tenant, Mr William Horsley, who later bought and developed it into an estate called Trafalgar Square; this was one of the first of many small estates of semi-detached houses to be built in the Twickenham area.
Thomas Warren's survey map of 1845 shows the long square with 13 pairs of semi-detached houses on two sides, an oval pond and a greensward in the middle. There was apparently no piped water supplied and wells were provided near the kitchen doors. All the houses seem to have been unoccupied in 1845-6 possibly as a result of an over-estimated rental of £22 p.a., but they were all occupied by 1855, with a reduced rental of £16 p.a.
In 1882 a road was put through the middle of the square which meant the loss of the pond and the greensward, the houses being compensated by larger front gardens. Fifteen years later the Gothic Estate to the north was broken up and a new road (Gothic Road) with rows of cottages were constructed at the northern end. Today, Trafalgar Road is surrounded by buildings of various sizes, styles and periods.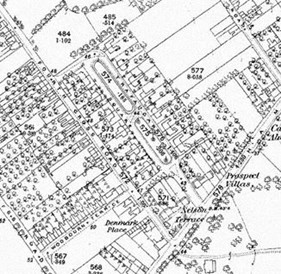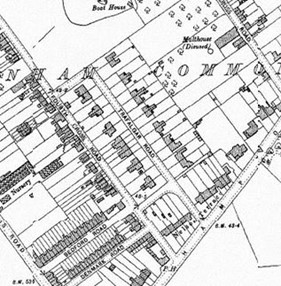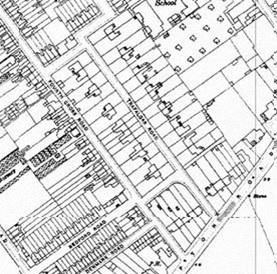 Part 2: Conservation Area Appraisal
Location and Setting
Trafalgar Road is located approximately 1.5km to the west of Twickenham Town Centre and to the south-west of Twickenham Green. It is bounded by Hampton Road to the south-east, Fourth Cross Road to the south-west and Gothic Road to the north-west. The boundary follows the rear boundaries of the gardens of the properties of Trafalgar Road.
The Conservation Area was designated in January 1969 and is somewhat unusual in comparison to many others within the borough as it consists of Trafalgar Road only and all the houses within it are either designated as Buildings of Townscape Merit (BTMs) or are statutorily listed.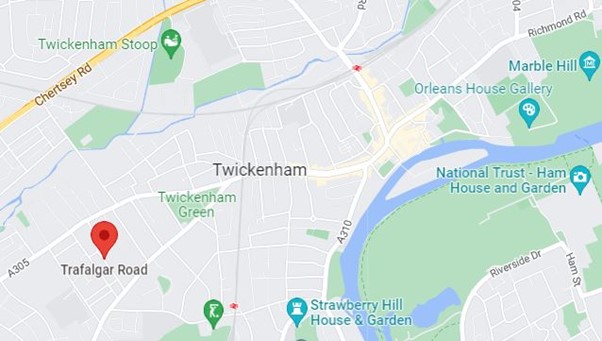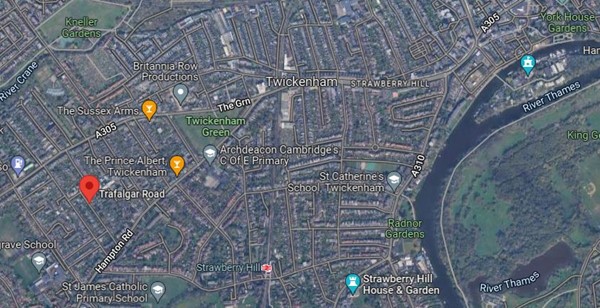 Streetscape Overview
The area is roughly rectangular in shape, neatly containing two rows of semi-detached houses, one on either side of the street, with three terraces of two-and-a-half to three storeys forming the entrance fronting Hampton Road.
Its character is immediately distinguishable from that of its surroundings by the consistent scale and style of architecture within its boundary. Trafalgar Road is even and straight and the whole area is visible from one end to the other, with views contained by the buildings in Hampton Road and Gothic Road. The only interruption of Trafalgar Road is an access way to the rear of 126-134 Hampton Road, linking it with Fourth Cross Road. The view looking towards Bedford Road is attractive, but of a different character with small cottages giving a modest village-like atmosphere.
A planned estate either side of a central axis, the character of the Conservation Area is essentially that of high-quality housing set in ample mature landscaped gardens. The appearance of Trafalgar Road is very much dominated by its trees and shrubberies, especially in the summer months. The buildings, seen between trees, are villa style houses of the mid C19th which give dignity and delight to this tranquil residential area. The spaces between these buildings are a very important components of the overall streetscape, which together with the hipped roofs, emphasise the individual villa character of these houses.
Views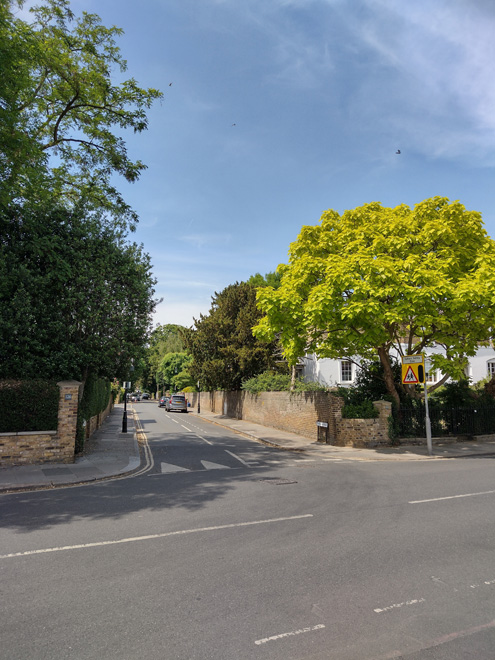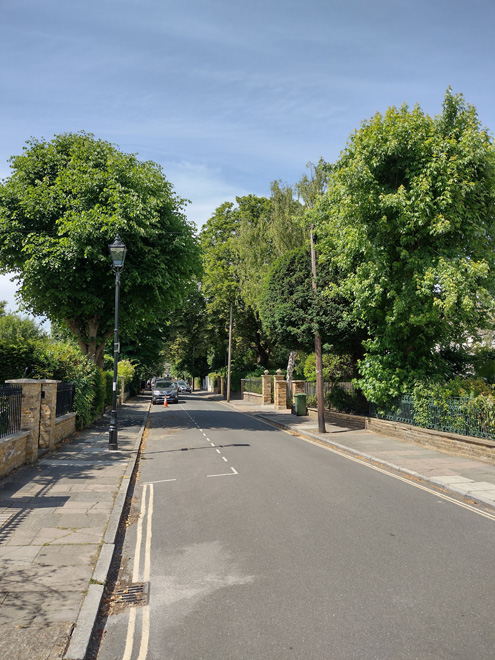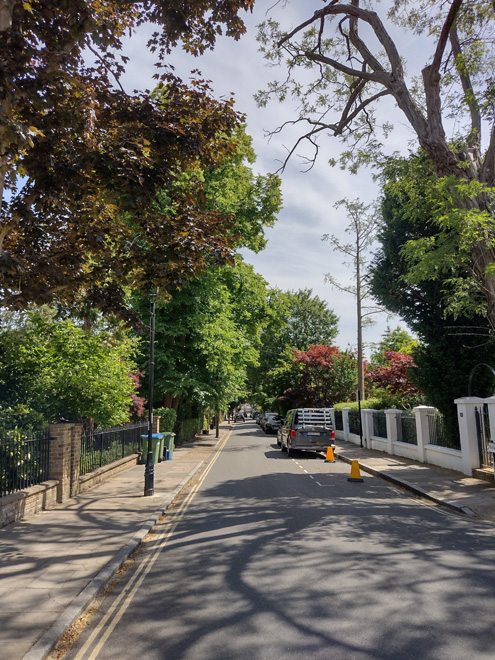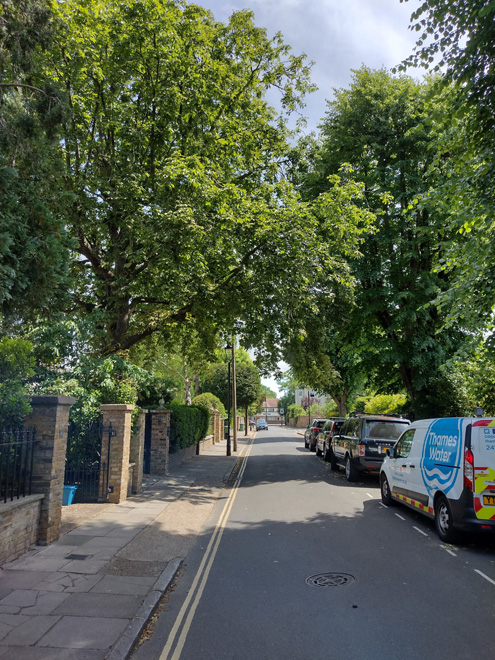 Architecture and Built Form
There are now 12 pairs of two-storey semi-detached houses in Trafalgar Road, one of the original pairs having been altered to form four terraced houses, and an additional 11 terraced houses in three groups three storeys high, facing Hampton Road. All of them have low pitched hipped slate roofs, shared stock brick chimneystacks and painted stucco or stock brick walls, some consisting of a mixture of these two materials. They are decorated with moulded architraves, entablatures or consoles above windows, typical of buildings built in the Regency and early Victorian periods. Some of them have very fine iron balconies, decorative porches and canopies, some with their original trellis work. The majority of the houses in the road have been extended to the side and/or rear although, in some cases, this occurred before the Conservation Area designation. Front garden boundaries to the road are distinguished by a mixture of treatments, predominantly hedges or decorative gates and high-quality iron railings on low brick walls with stone copings. The pressure for parking space has led to the loss of front gardens in recent years.
Numbers 2 and 4 Trafalgar Road are statutorily Grade II listed buildings. Number 4, with its decorative hooded trellis porch, typifies the character of entrances elsewhere in the street. Although not statutorily listed, the rest of the buildings in the Conservation Area are of sufficient interest to be worthy of preservation and enhancement, hence their status as locally listed Buildings of Townscape Merit (BTMs).
Number 6 Trafalgar Road was unlawfully demolished in 2011. Following a Crown Court ruling, the owner was ordered to pay £80,000 for the demolition, along with £42,500 toward court costs and rebuild the property like for like. At the time, the fine was the highest imposed for a demolition of a building in a conservation area in UK history.
Trafalgar Road Conservation Area is subject to an Article 4 Direction, which covers side extensions, addition of roof dormers and rooflights, changes to the roof pitch and materials, alterations to windows and doors on front and side elevations, rendering and painting of external elevations, the construction of porches and maintenance and alterations of gates, fences, walls and enclosures.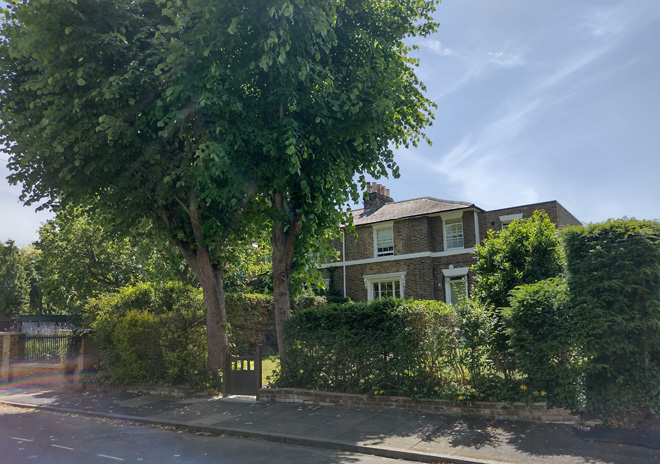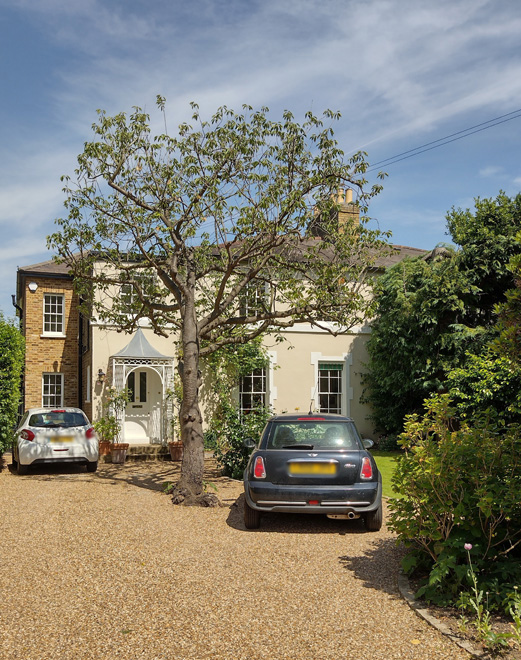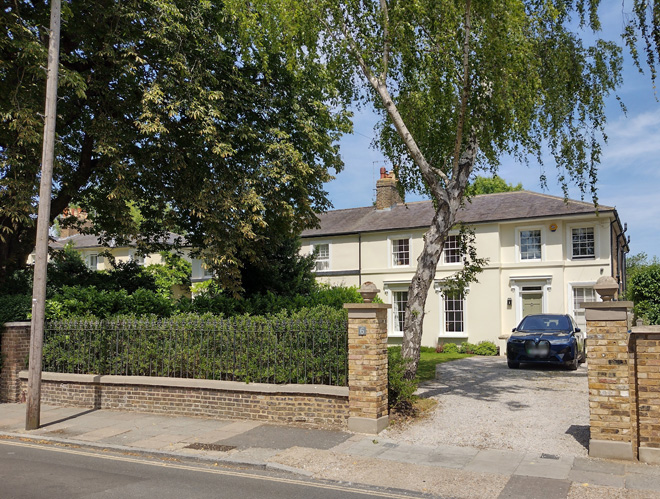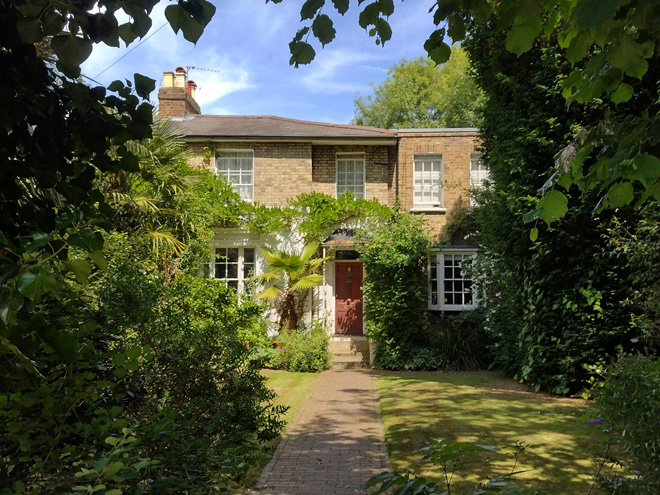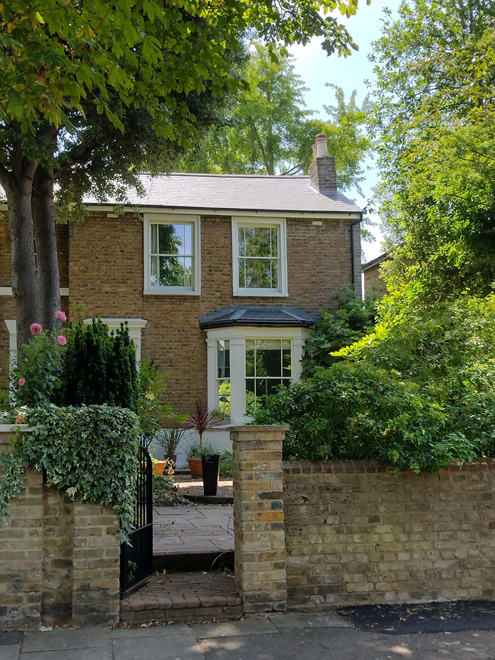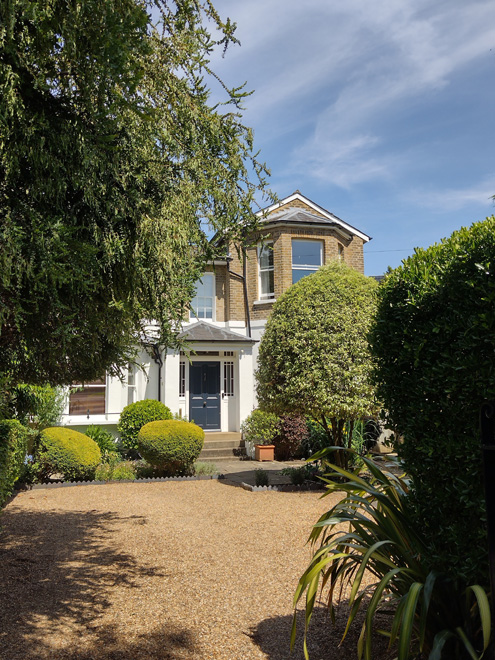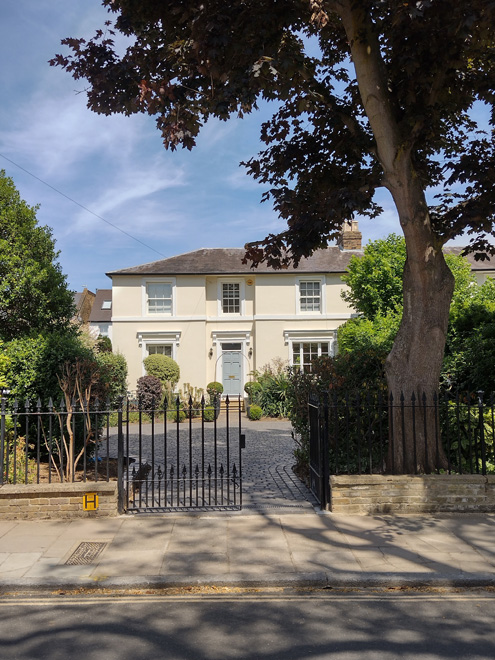 Architectural Details
Roofs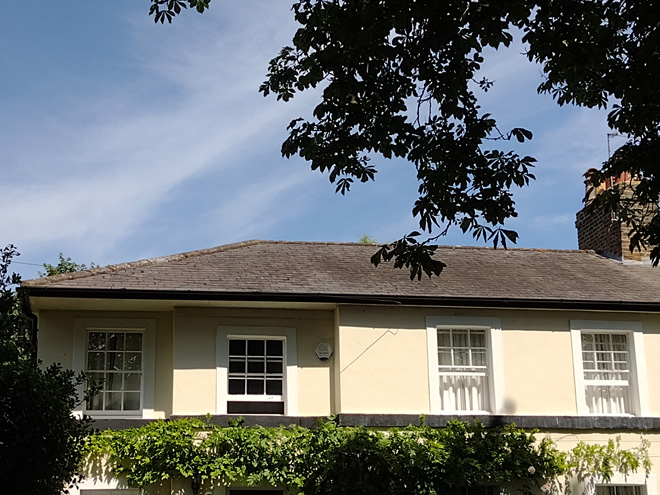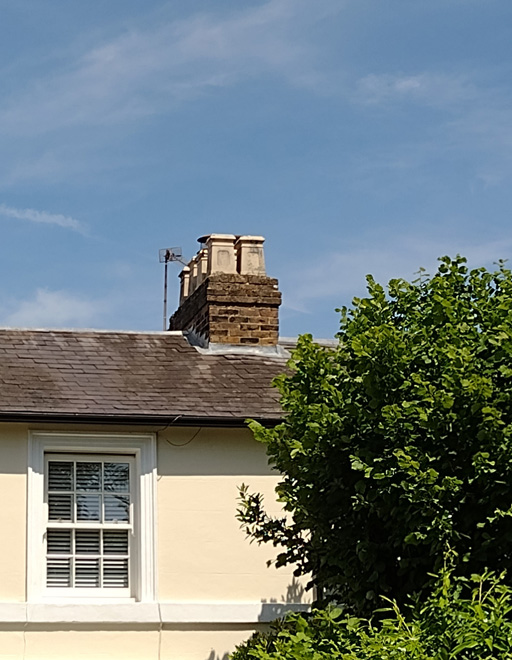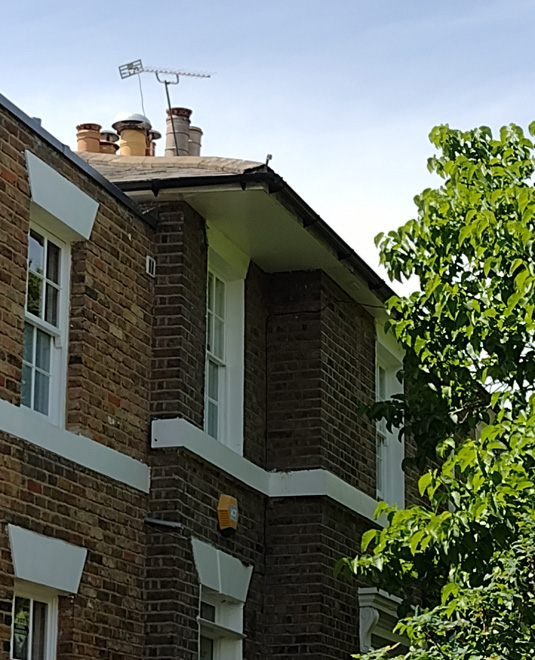 Doors & Porches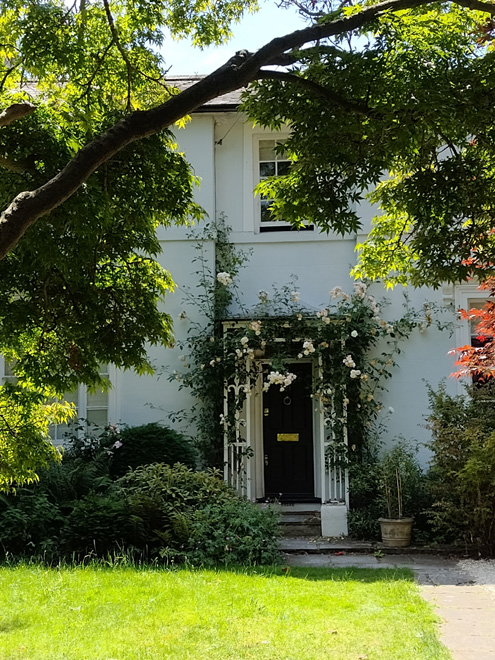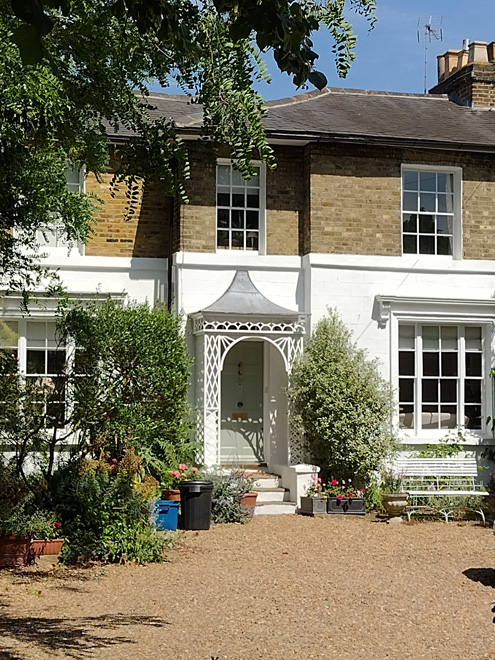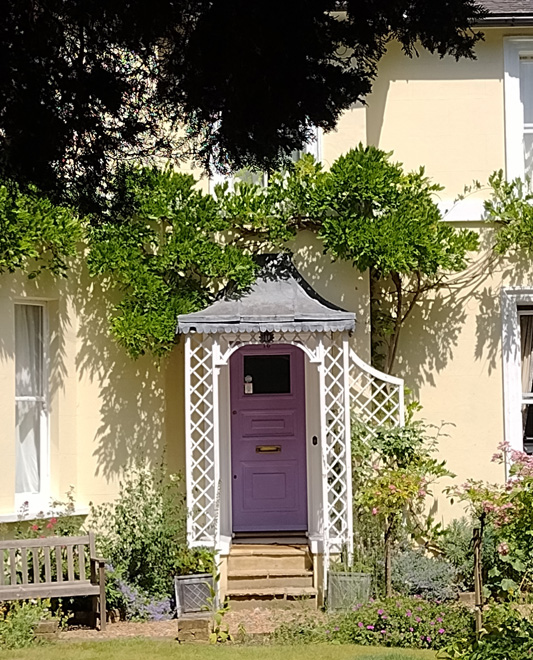 Windows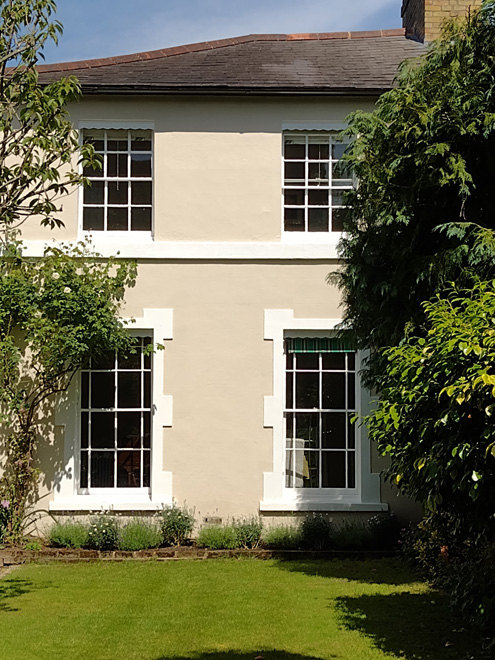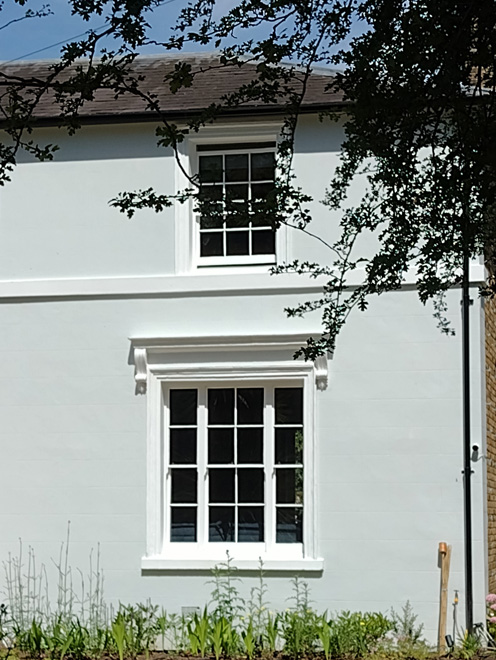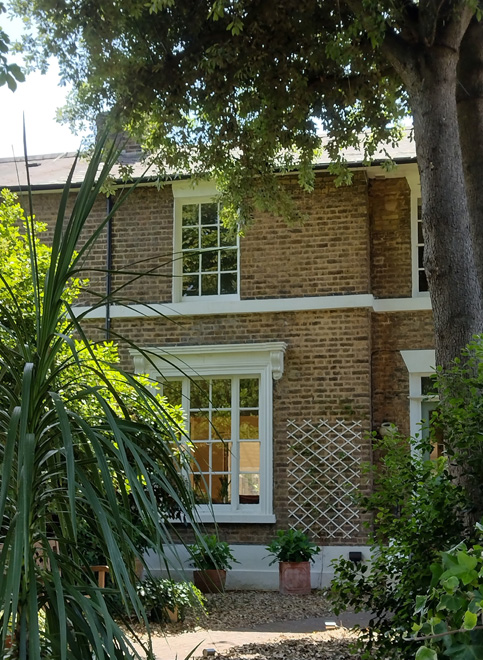 Boundary Treatment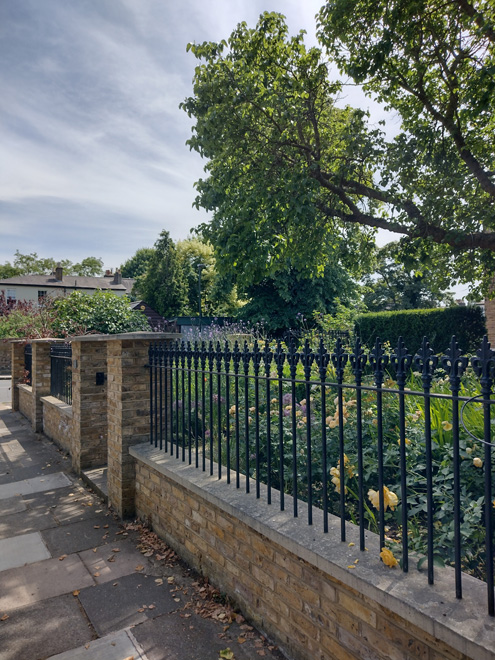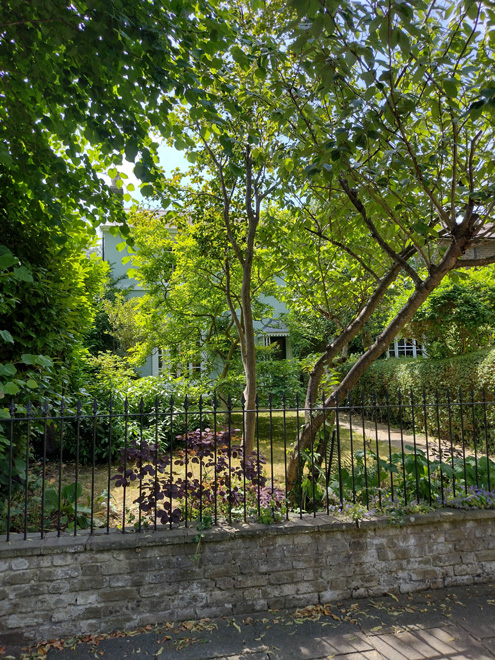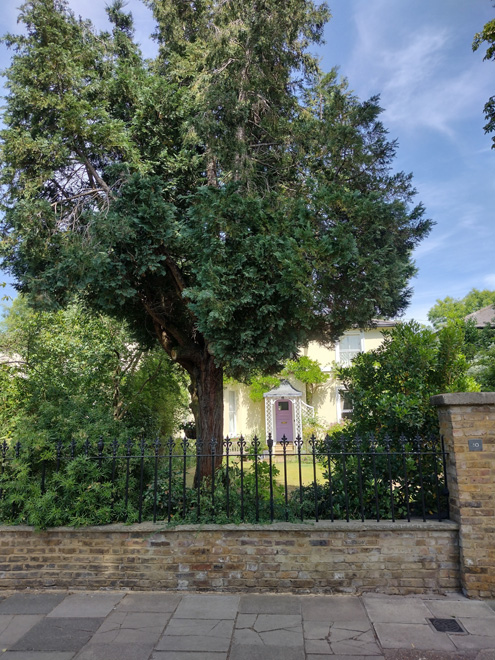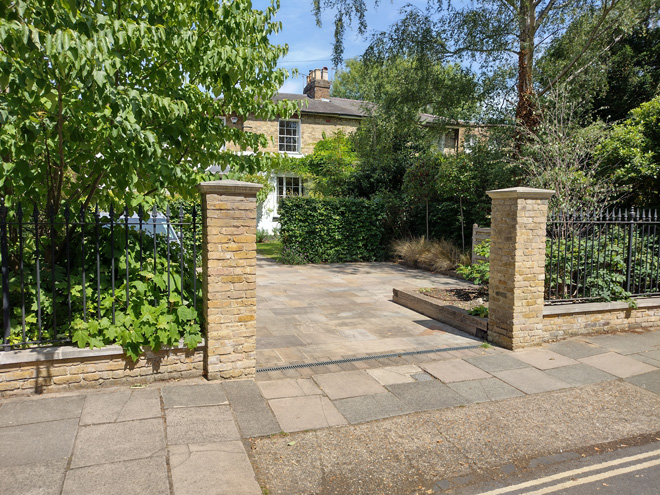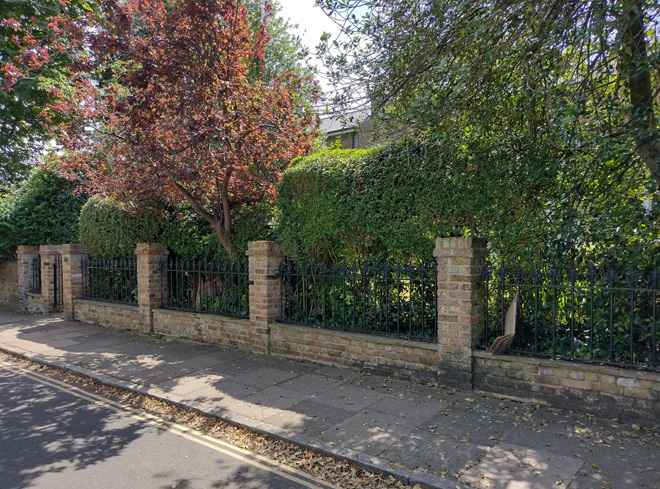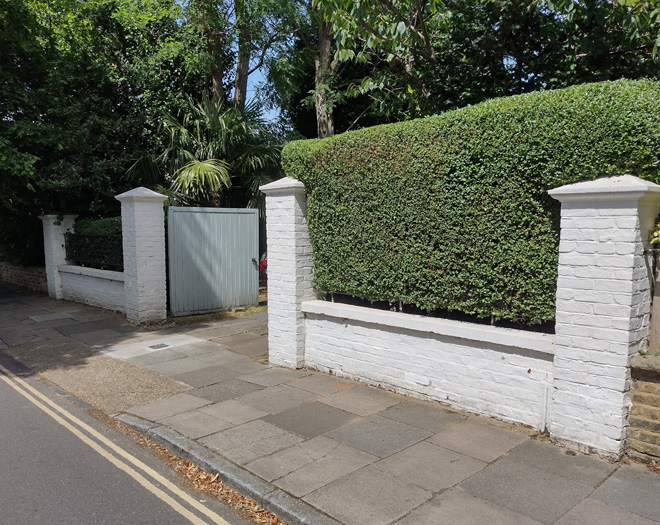 Open Spaces, Gardens & Trees
When first constructed as Trafalgar Square, the area boasted a large pond and greensward at its centre, though this was lost with the construction of a central road in 1882.
The area remains very well defined with fine mature trees, both deciduous and coniferous, hedges and shrubberies, which are planted close to the boundaries of the private front gardens, along the road and on the boundaries between properties. In addition, some of the front gardens are well laid out with attractive flowers and bushes, with some fine trees, of which many are subject to Tree Preservation Orders. The rear gardens of Trafalgar Road are not easily visible from the street. The overall quantity of greenery gives the area a sylvan character through which the buildings are generally seen obliquely, rather than in head­-on views. The charm of catching glimpses of the properties and their many fine architectural details is one to be envied amongst conservation areas within the Borough of Richmond upon Thames.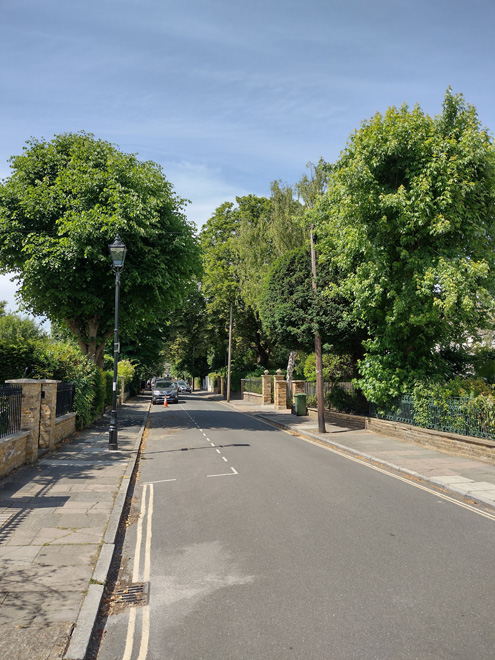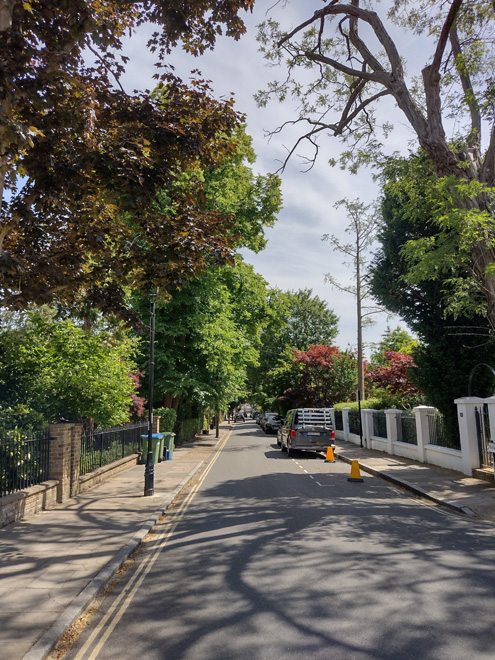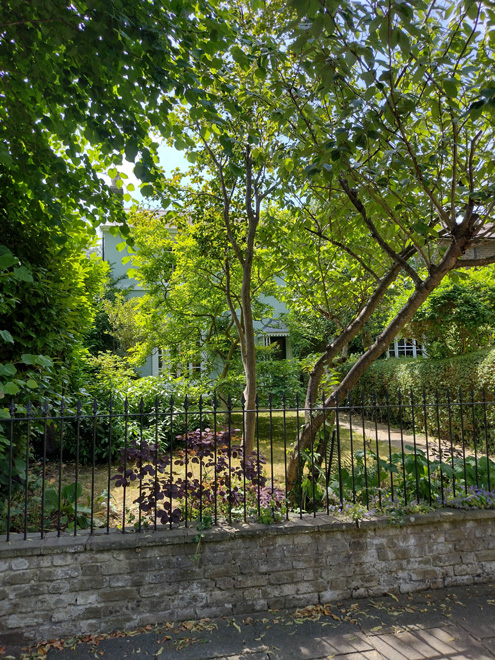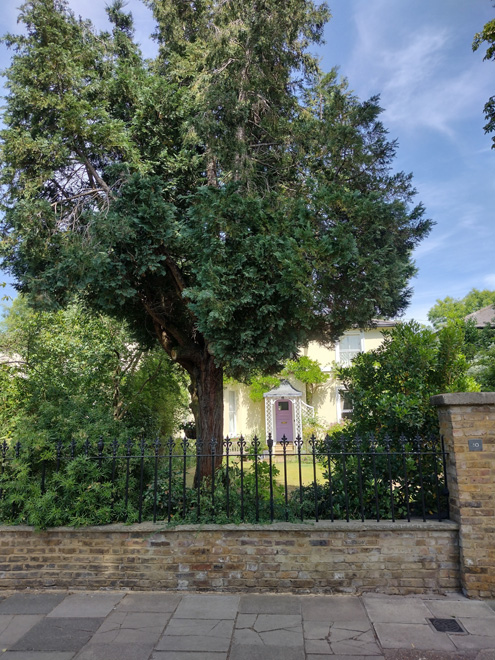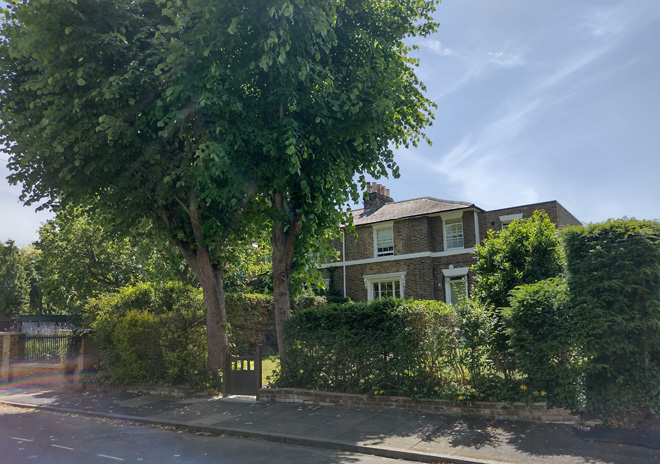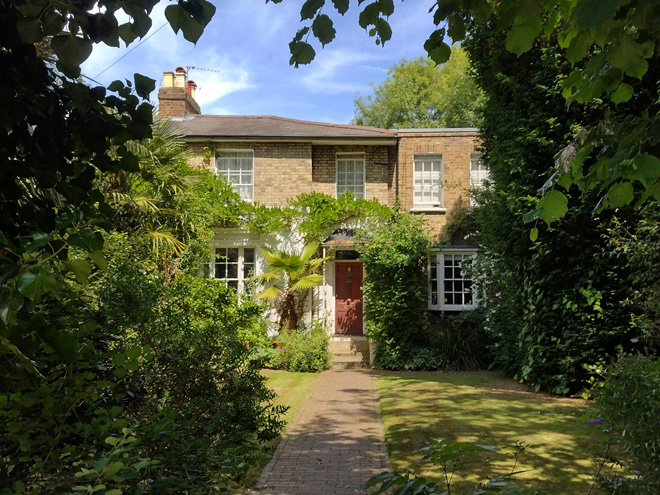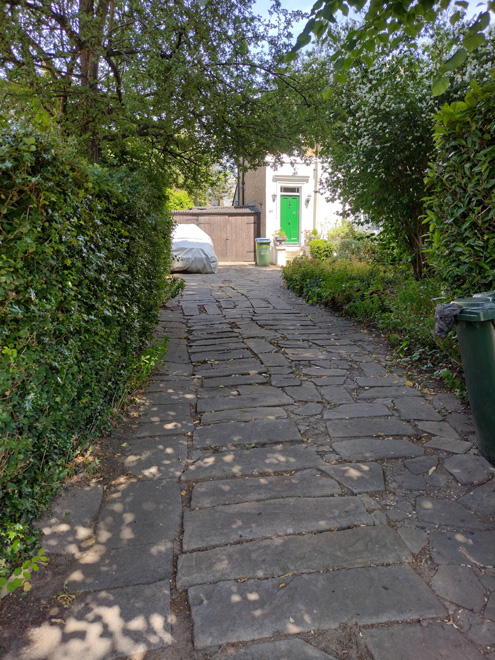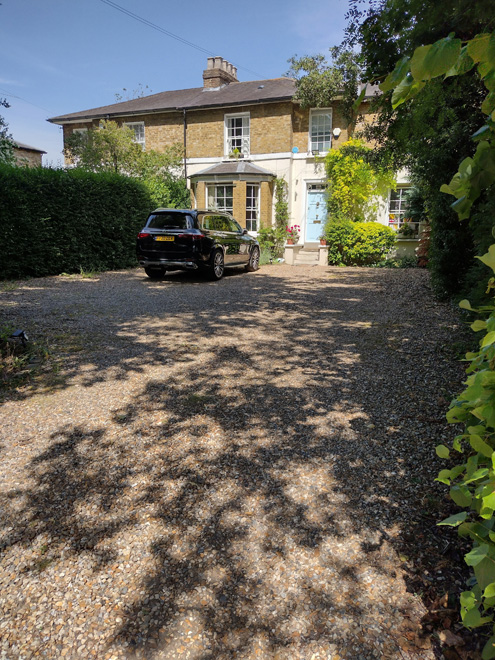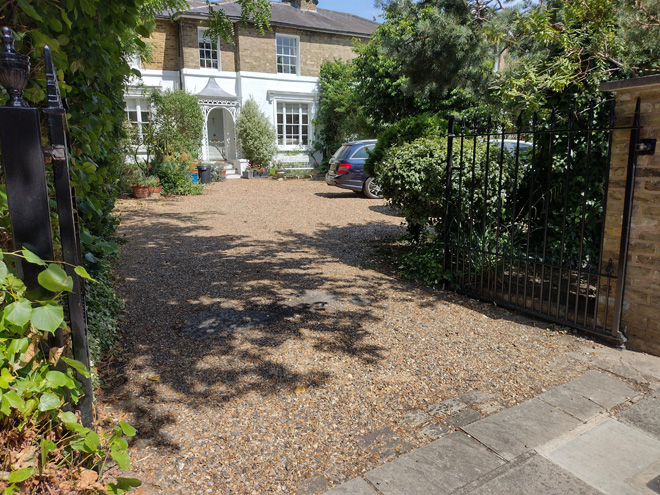 Street furniture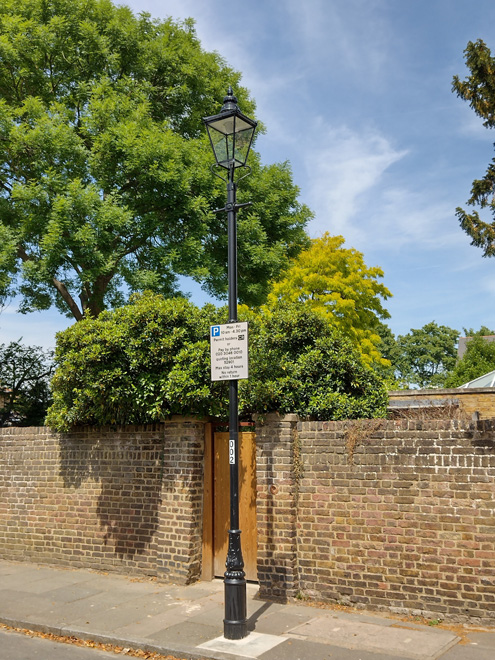 Paving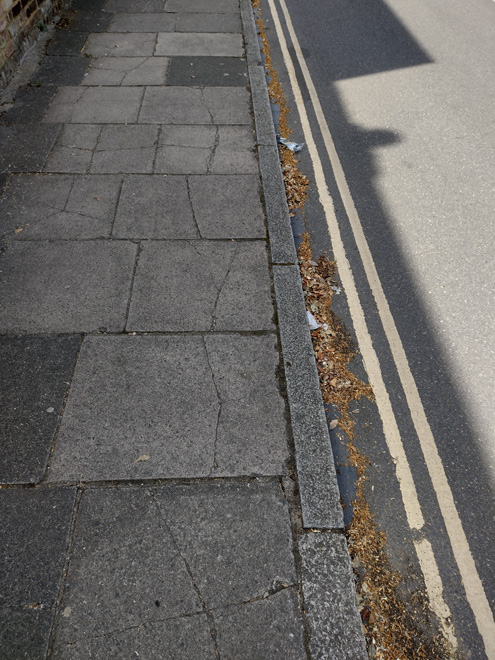 Part 3: Management Plan
This Management Plan outlines how the Council intends to preserve and enhance the character and appearance of the Conservation Area in future. The Council has a duty to formulate and publish these proposals under the Planning (Listed Buildings and Conservation Areas) Act 1990. 
Problems and Pressures
Increased traffic in mornings and afternoons during school terms.
On-street parking can hinder ease of passage at busy times.
Unsympathetic alterations and extensions that threaten the appearance and original symmetry of the properties.
Changes such as the removal of original glazing bars, windows, porches, balconies and other details, which reduce the interest and threaten the character of the properties.
Development pressure which may harm the balance of the landscape-dominated setting.
Development leading to the obstruction or spoiling of views and spaces between buildings.
Loss of traditional materials through unsympathetic alterations.
Loss of front boundary treatments and front gardens for car parking.
Widening of gateways for vehicular access.
Lack of coordination and poor quality of street furniture and paving materials.
There is a mixture of streetlight types at present.
Opportunities for Enhancement
Strict application of the existing Article 4 Direction, which covers the whole Conservation Area.
Preservation, enhancement and reinstatement of architectural quality and unity.
Encouragement of informed, sensitive design for new extensions.
Retention of surviving spaces between semi-detached pairs.
Encouragement to use traditional materials when carrying out alterations and repairs.
Retention and enhancement of front boundary treatments and discouragement of increase in the amount of hard surfacing in front gardens.
Improvement and protection of landscape setting.
Coordination of colour and design and improvement in quality of street furniture and flooring.
Coordination of street lighting. The Conservation Area would be suitable for heritage lighting. 
Improvement of paving quality: traditional slabs with granite kerbs would be appropriate materials.
Design Guidance
Trafalgar Road Conservation Area is subject to an existing Article 4 Direction, which covers side extensions, roof dormer and rooflight additions, changes to the roof pitch and materials, alterations to windows and doors on front and side elevations, rendering and painting of external elevations, the construction of porches and maintenance and alterations of gates, fences, walls and enclosures. 
Historic England recommends that where an Article 4 Direction is in place or is introduced as a result of the assessment process, the Appraisal is also a source of guidance for applicants seeking to make changes that require planning permission, helping to make successful applications.
The design guidance below sets out how good quality design helps to both preserve and enhance this Conservation Area. The guidance sets out advice relating to the controls under Article 4 Directions as well as alterations which require planning permission.
Windows
Windows make a significant contribution to the appearance of an individual building and can enhance or interrupt the unity of a terrace, so it is important that a single pattern of glazing bars should be retained within any uniform composition. Generally, windows follow standard patterns/styles. In Georgian and early/mid Victorian terraces, each half of the sash was usually wider than it was high, but its division into six or more panes emphasised the window's vertical proportions. Later Victorian and Edwardian buildings often employed a simpler pattern, with the top and bottom sash either having one large pane, or a single central glazing bar.
It is encouraged that residents, in the first instance, retain and repair existing original timber sash windows. If replacement is required, all aspects of the window should be considered including opening type, glazing bar pattern, horns to sashes, and depth. Windows should be timber sash and are generally single panes with no glazing bars or a simple two-over-two. Timber frames are not only the most appropriate option, but a natural material which helps reduce the use of single-use plastics, often found in other windows. Timber windows also have the benefit of being more cost effective, being much more durable and repairable than alternatives, and there are options to maintain their appearance while introducing energy saving and noise reducing features.
Single glazing is the most common approach and would be the most acceptable replacement to maintain the existing character and appearance of the area. Secondary glazing in an unobtrusive option to increase efficiency, reduce noise, and avoid intervention to existing fabric, often performing as well and lasting longer than double glazing. Double and triple glazing can be inserted into timber frames and help maintain a consistent appearance with similar benefits to secondary glazing and may be appropriate where there is justification for full replacement. Where double/triple glazing is accepted, black spacing bars and seals should be avoided – these should instead be white to blend with the frame. Trickle vents should be avoided or well concealed within the frame to maintain consistency with historic appearance.
Doors
Like windows, it is encouraged that residents, in the first instance, retain and repair any existing original timber doors. This is best for the environment, for the character and appearance of the area, and is often a more inexpensive solution to complete replacement. Simple modifications can often be carried out internally which improves the weatherproofing of the door without impacting its external appearance. If a replacement is required, then it should match the original door for the host building's typology.
Extensions
Residential extensions are suitable to the side and rear; however, many have made unsympathetic alterations, the cumulative effect of which is causing harm to the Conservation Area more broadly. Any extensions should be detailed to follow the original building typology, including roofscape, walling, windows and materiality.
Boundaries
Boundary treatments make a positive contribution to the streetscape and enhance the character and appearance of the conservation area. In the first instance, they should be retained and repaired where possible. Though extant treatments remain inconsistent, sympathetic form, material, and scale can be achieved for replacement boundaries by replicating common examples. These may be hedges or low brick walls or a combination of brick and rail, finished in a manner to match the host dwelling.
Gardens
Front gardens make a positive contribution and help illustrate the characteristic design in the area. Planting can heighten this suburban feel. Full hard landscaping creates uninviting frontages and should be avoided. Glimpsed views to rear gardens and mature planting help break up rear elevations and contributes to the overall suburban character.
Painting and External Finishes
The painting of brick façades is uncommon and is discouraged and will require planning permission under the Article 4 Directive. Where painting has already occurred, paint should only be refreshed and in an appropriate colour selected to maintain the overall neutral palette of the conservation area.
External finishes, such as render, are a common feature in the Conservation Area, and the approach to their treatment is similar to paint – where existing finishes can be repaired and restored, and new finishes not normally approved. Planning permission will be required for new external finishes where the Article 4 Direction is in effect, which is for the entire Conservation Area, and will not normally be approved at the front of properties and flanks onto streets if it is considered to have a harmful impact on the appearance of the host building.
Energy Efficiency
Introducing energy efficient measures can be desirable to reduce carbon emissions, fuel bills, and improve comfort levels. It is important that the appropriate course taken should be informed by the context of the building being improved, with each building having different opportunities and restrictions.
Not all solutions will be appropriate across the Conservation Area, and the 'Whole Building Approach' advocated by Historic England encourages a case-by-case approach, which fundamentally considers the context, construction, and condition of a building to determine which solutions would be the most suitable and effective. More detailed advice can be found within the Guidance Note Energy Efficiency and Historic Buildings: How to Improve Energy Efficiency 2018.
Updated: 07 November 2022