Kings Field
Hampton Court Road, Kingston upon Thames, KT1 4AE Map
​This park in Hampton Wick is often bustling with activity, the skate park being particularly popular. You must have an 'access pass' to be able to gain entry to the skate park, this costs £10.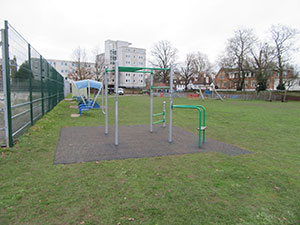 About the park
The playground caters for all ages and many other sports are played throughout the year. Sessions for under 10s are currently being run on the skate park on Saturday and Sundays from 10am to 12 noon.
Facilities include:
Cafe
Changing rooms
Cricket pitch
Three full-sized football pitches
Basketball court
Toilets
Play equipment for under 13s, as well as older children
Skate park
Two tennis courts 
Skate park
Access to the skate park
You must have an 'access pass' to be able to use this skate park facility. An access pass costs £10 and can only be obtained online. If the user is under the age of 16, a parent or guardian must complete the form. The pass will have a photo of the holder displayed and will have the conditions of use and code of conduct printed on the reverse. The onsite attendant will be checking passes on entry to the skate park.
Please note an access pass may take up to five days to arrive.
Sessions for under 10s are currently being run in the skate park daily 10am to 12 noon including during school holidays.
Check which types of bikes and scooters

(pdf, 383 KB) are permitted in the skate park.
The skate park is closed on rainy days and when there is standing water as it makes the area unusable.
There is a similar skate facility at Heatham House, Twickenham. To register interest with Heatham House, visit the Achieving for Children website.
Friends of Kings Field
If you would like to become involved in the park or find out about the projects Friends of Kings Field are working on, contact the group at Friendsgroupkingsfieldpark@gmail.com.
Visiting the park
Kings Field is locked at night. See parks opening times for information about when the park is accessible.
Hampton Wick station is nearby, as are the bus routes 111, 216, 411, 461, 641, 281 and 285.