Crane Park
Crane Park Road, Twickenham, TW2 6DF Map
Crane Park follows the bends of the River Crane from Meadway in Twickenham to Hanworth Road at its western end.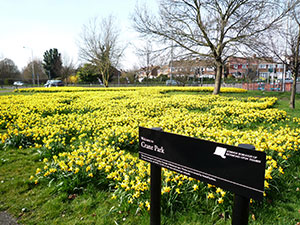 About the park
The park is designed to encourage wildlife, and the banks of the Crane are home to a thriving colony of Marsh Frogs and the rare Water Vole. Crane Park Island is designated a Local Nature Reserve.
Crane Park is jointly managed by the London Borough of Richmond upon Thames and the London Borough of Hounslow, and a shared use path runs through the park. 
Visiting the park
Crane Park is accessible at all times. The nearest train station is Whitton, and the area is also served by the bus routes 110, 481 and H22.
Friends of Crane Park
If you would like to become involved in the park or find out about the projects Friends of Crane Park are working on, then please visit the Crane Park website.
They can also be contacted by email at info@force.org.uk.
All parks are managed by the Council and any general queries should be sent to us: