Champions Wharf Play Beach
Champions Wharf, Twickenham, TW1 3DT Map
This permanent play beach opened in the summer of 2013.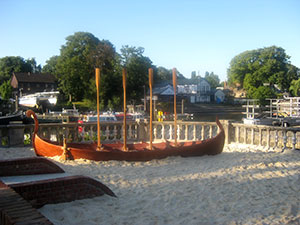 About the park
The beach features a 7m Viking Boat and a 5.5m Wherry (Victorian Water Taxi) and is suitable for all ages.
The surrounding open space at Champions Wharf has also been refurbished with the installation of permanent artwork and new seating inscribed with quotes from the poet Alexander Pope, a former resident of Twickenham.
Visiting the park
Champions Wharf Play Beach is locked at night. See parks opening times for information about when the park is accessible.
The nearest train station is Twickenham, and the area is also served by the bus routes 33, 110, 290, 490, H22, H37. R68 and R70.