The Current: Romance
Our pick of the best reads in the Romance genre.
Whiteout
Dhonielle Clayton and others
Stevie has messed up and must apologise to her girlfriend Sola before it's too late. Stevie's friends are keen to help fix their relationship. The only problem is that snow is falling and it's causing chaos... This cosy collection of short love stories, written by six incredible authors, is set just before Christmas and shows romance in all its forms with the magical setting of a paused city. A wonderful cast of diverse characters make this book a perfect comfort read.
ISBN: 9780008493059, Electric Monkey: 2022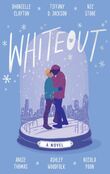 The First Thing About You
Chaz Hayden
Chaz has Spinal Muscular Atrophy and gets around in a wheelchair with a Nurse to assist him. Neither of these things make starting at a new High School any easier. Luckily his new Nurse is fun and seems prepared to help him navigate friendship and romance. But does she have her own agenda? Engaging and insightful, drawing on the author's own experience of SMA.
ISBN: 9781529510942, Walker: 2022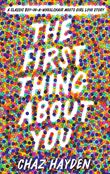 A Complicated Love Story Set in Space
Shaun David Hutchinson
Boy meets boy. On a spaceship. With no memory of how they got there. Add some aliens, murder, soufflé, terrible television, robots, time loops, an intergalactic high-school and two Jenny's (one real, one holographic) and things quickly get... complicated. This is a hilarious adventure through space, with some genuinely tender and heartfelt moments scattered amongst the endless pop-culture references. With its deeply meta plot points and nods to media tropes, this is the perfect read for fans of Black Mirror.
ISBN: 9781534448544, Simon & Schuster: 2022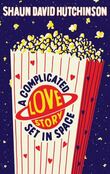 Destination Unknown
Bill Konigsberg
A coming-of-age and coming-out story set in 1980s New York during the height of the AIDS epidemic. CJ is determined to draw Micah out of his shell (and the closet) by showing him everything he's missing out on as young gay man. Their relationship develops amid the growing health crisis and this novel does not shy away from the devastating impact of the disease running rampant through their city. A story about young love and discovering your voice in the face of impossible circumstances.
ISBN: 9780702319198, Scholastic: 2022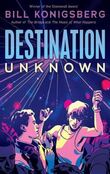 I Kissed Shara Wheeler
Casey McQuiston
Chloe Green is desperate to be high school valedictorian, but when her only competition, Shara Wheeler, kisses her and then vanishes, Chloe is desperate to find answers. Together with the two boys that Shara also kissed, Chloe follows the trail of clues and challenges left behind to find Shara and finally beat her academic rival and take the top spot. But will love find Chloe when she least expects it? Or will her obsession with Shara Wheeler overwhelm her?
ISBN: 9781529099423, Macmillan: 2022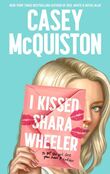 Luka and Cosmo meet during a meteor shower, and it seems their love is written in the stars. However, as we learn from the startling first chapter, this is not a love story. Presented as transcripts from a podcast, combined with letters and texts, this novel explores the painful complexities of coercive and emotionally abusive relationships in the modern world. Luka's family and friends reflect on the previous year, during the early stages of the Covid-19 pandemic, to try and make sense of what happened.
ISBN: 9780755500741, Electric Monkey: 2022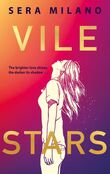 The First to Die at the End
Adam Silvera
When Orion and Valentino meet in Times Square, the sparks are immediately obvious. They both have their own reasons for signing up to Death-Cast, the service that tells them the day they are going to die. Unfortunately, for one of them, their End Day is now. Although one of them won't survive the day, they choose to spend it together. This heart-wrenching romance shows the impact that one person can have on someone else's life, even if just for a short time.
ISBN: 9781398519978, Simon & Schuster: 2022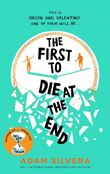 See You Yesterday
Rachel Lynn Solomon
In this time-loop romance, Barrett Bloom gets the chance to redo the first day of college when it all goes wrong. Utterly perplexed by her repeating timeline and searching for answers, Barrett discovers that Miles, from her Physics 101 class, has been trapped on 21st September for months. As the pair work together to fix their timelines and escape the time-loop they find themselves getting closer and begin falling for each other. Is their love strong enough to survive if they escape?
ISBN: 9781665924689, Simon & Schuster: 2022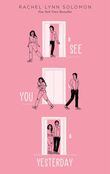 Well That was Unexpected
Jesse Q Sutanto
Sharlot and George are both caught by their respective parents in compromising situations and unfortunately for them, their parents decide to do something drastic. Sharlot's mum moves the family to her native Indonesia. George's dad decides to find him a partner online and ends up talking with Sharlot's mum who has had the same idea. When Sharlot and George are finally forced together, they don't believe they'll fall for each other. But did their parents have the right idea all along?
ISBN: 9780008501464, Electric Monkey: 2022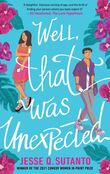 Nate Plus One
Kevin Van Whye
Nate is a shy but talented singer-songwriter who couldn't be more different to Jai, the front man of his band. But when Jai desperately needs a lead singer for an important gig, Nate steps in to help. Jai returns the favour by offering to be Nate's plus-one to a cousin's wedding in South Africa where together they will face Nate's ex-boyfriend. This best friends-to-lovers romance novel is all about music and self-discovery.
ISBN: 9780241567807, Penguin: 2022