Cover Story: Romance
Here are our librarians' picks:
Take a Chance on Me
Beth Garrod
It would be fair to say that Meg's first attempt at a 'first kiss' was a disaster, with the boy ending up in Casualty. The pressure is really on to get it right the second time. She has got the location sorted, on a sun-drenched Greek island. Now all she needs is the boy, and three are vying for her attention. Not a bad problem to have, but how is she going to choose? A laugh-out-loud look at romance.
ISBN 9781407186962 - Scholastic: 2019 ebook available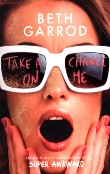 The Pieces of Ourselves
Maggie Harcourt
Flora just wants to be left alone. Since her meltdown at school she has been avoiding people and her job working in a hotel lets her hide away as she tries to come to terms with what happened.  So why does one of the guests insist on roping her in to help him solve a mystery from the past? As it turns out this is just what she needs to help her start picking up the pieces of her life.
ISBN 9781474940696 - Usborne: 2020 ebook available
Updated: 16 November 2020