Get involved with Fairtrade
There are a number of ways that you can support Richmond as a Fairtrade Borough.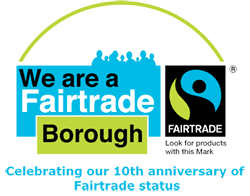 Join Richmond Fairtrade Network
Volunteers who work with the council to promote the use of Fairtrade certified products in the borough.
If you live, work, or study in the borough and are interested in offering support, please email enquiries@richmondfairtrade.org.uk.
Buy Fairtrade
You can make a difference by buying more products with the Fairtrade Mark. If you cannot find any in a shop, please ask for them because customer demand is important.
Richmond Fairtrade Network produced a guide of where you can purchase Fairtrade goods in shops, cafes and restaurants.
Promote Fairtrade
Each of us has the power to influence others as we go about our daily lives. Please encourage your friends, workplace, community group, religious group, school or university to use Fairtrade products.
Sell and serve Fairtrade
If you are a retailer or caterer looking to stock Fairtrade products, take a look at the Richmond upon Thames Directory of Wholesalers

(pdf, 424KB).
Fairtrade in schools
Teachers, parents and governors can encourage a school to embrace Fairtrade. Your first step is to find out what your chosen school is already doing.
The Fairtrade Foundation has three levels of School Award to help all schools to do something – FairAware, FairActive and FairAchiever. Everything to get you started is on the Schools Fairtrade website.