Chapel services suspended
Chapel services are suspended until ongoing health and safety risk reviews are concluded. You can continue to book graveside services.
There are three cemetery chapels in the Borough:
The chapels are interdenominational, meaning people of all beliefs may use the chapel facilities. Religious symbols in the chapels are removable.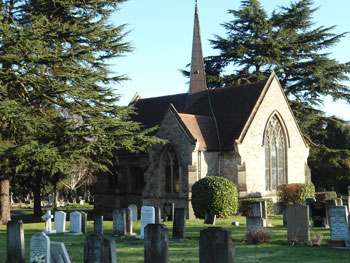 Attending a chapel service
When attending a service in one of the chapels, you can drive into the cemetery and park in the area around the chapel. There will be a member of staff on site to help you to park out of the way of the hearse and limousines.
You can also drive through the cemetery after the service to reach the graveside. The hearse will lead the way through and the following cars can then pull up and park behind the hearse and limousines. Priority is given to cars where people are attending funerals.
The service
The kind of service you hold is up to you. You may choose to have a religious representative take the service, though this is not compulsory. Friends or family members may wish to take the service, or an officiant from, for example, the National Association of Humanists. Or you could have a civil ceremony (see the Institute of Civil Funerals website for more information).
You are free to decorate the chapel with fresh flowers, balloons or candles. Please let us know what you would like us to do to help you, or speak to your Funeral Director for advice.
Music / hymns
If you would like to sing hymns, you will need an organist. Each chapel has hymn books (Hymns Ancient and Modern) and the funeral service book for people who wish to use them. You can download our list of hymns

(pdf, 95KB).
There are music facilities available at each chapel, including an electric keyboard and CD / tape players in case a special piece of music is required. Live music such as bagpipes is permitted inside the chapel and at the graveside.
Annual memorial services
Every year we hold memorial services at our cemetery chapels to help people pay respect to their loved ones. These services are open to all members of the public.
Disabled access
Each chapel has wheelchair/pushchair access, and there is a wheelchair available to borrow for use inside, upon request.
Arrange a viewing
If you would like to view any of the chapels, please contact the Cemeteries Office for an appointment .