Our winter gritting service ensures that, where reasonably practical, main roads are kept clear of snow and ice and entrances to important public buildings remain accessible.
We use precautionary gritting from October to April to prevent the build up of ice on selected roads.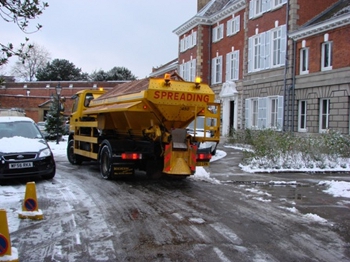 Extreme weather
In times of heavy snow we will also clear selected footways, pavements and smaller roads. This includes:
Footways in town centres, station forecourts, footbridges near to and adjacent to schools, care homes and hospitals
Footways and roads with steep slopes or inclines
Smaller roads (which will be gritted once the precautionary roads are gritted and there is some certainty that they will remain open)
View a list of secondary roads cleared in extreme conditions.
Winter Service Plan
Our Winter Service Plan

(pdf, 684 KB) sets out in detail how we will respond to snow and freezing weather conditions.
If you have any feedback on our Winter Service Plan, email highwayoperationsandstreetscene@richmond.gov.uk.
Please note we are unable to respond to queries about road gritting sent to this email address.