Litter, fly-tipping and street urination costs Richmond Council millions of pounds each year! 
We also spend your money cleaning up and dealing with the indirect costs, such as the harm it does to our environment.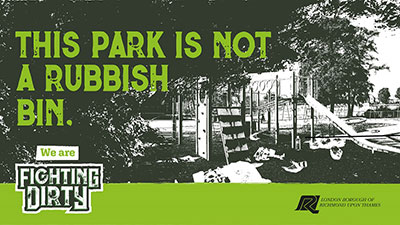 What we are doing to reduce litter
We are fighting dirty! We have installed more bins in hot spots around the borough and increased our collections. However, many people are still leaving behind bottles, food, packets and bags in our parks, open spaces, our tow paths and on our streets.
Other local action that has been taken includes; increasing police capacity and operations to target criminality, stepping up the borough's Park Guard operations, particularly over the weekends, working with local businesses to open their toilets, to combat unacceptable problems with defecation and urination and working with local supermarkets to restrict alcohol sales.
Officers are also investigating the possibility of opening new public toilets in both Town Centres.
We also enforce against litter and those who soil our streets, parks and open spaces. If caught – you could be fined!
Watch the video from Cllr Neden-Watts:
Listen PC Sam Parkinson, Heathfield Safer Neighbourhood Team, how we are fighting antisocial behaviour:
What you can do
We want all residents, businesses and visitors to have pride in Richmond upon Thames. As part of our Fighting Dirty campaign, we are installing new signage around the borough and launching a digital campaign. We need to try and educate residents and visitors of the harm of dropping litter and the resulting cost to the tax payer.
We want people to:
Stop dropping litter, particularly around bins that are already full
Stop dropping cigarette butts
Stop letting their dogs foul
Remember it's not just about reducing litter – it's about working towards a zero-waste society. Here are some things we can all do today to start moving things in the right direction.
Take your litter home - Keep a litter bag in your car or bag and hang on to litter until you find a rubbish bin
Make sure all bags are secure - As an extra precaution, make sure your waste bags are tied tightly at the top before putting them into the trash can
Report litter – Don't just walk past and take a photograph. Tell us – so we can clean it up!
Report fly tipping – Help us catch those who leave large items of waste and rubbish on our streets
Consider joining or hosting a volunteer litter pick – we have a number of local groups and organisations that can help you set up your own litter pick or sign post you to one already arranged
Find out your commercial waste responsibilities if you own a local business!
Buy a reusable water bottle – Don't buy plastic bottled waters. Take your own bottles and fill up in local cafes and restaurants.
Clean up after your pet - It should go without saying, but cleaning up after your pet is not only required by law but just common courtesy. If you are caught – you could receive a fine of £1,000.
Educate your children on the impact of littering and the health risks to using laughing gas!
If you need to go to the bathroom – Use one of our public toilets, the Community Toilet Scheme or go home!
Watch We are fighting dirty against fly tipping:
Nitrous oxide – no laughing matter!
We are also concerned about the rise in small nitrous oxide (N20) canisters being littered in our parks and open spaces. Nitrous oxide is commonly known as 'NOS' or 'laughing gas'. It's a colourless gas which when used as a drug is dispensed from a small silver metal canister into a container, such as a balloon or plastic bag and inhaled from the container for a short-lived high.
Supply of nitrous oxide for recreational drug use is illegal. This means anyone found to be selling, possessing to sell, or giving away nitrous oxide to be inhaled as a drug could face up to seven years in prison or an unlimited fine. It is legal to possess for personal use – but usage does come with risks.
It can cause dizziness, nausea, hallucinations and acts as a depressant. Mixing nitrous oxide with other substances increases the risks, as do underlying health conditions, and improper use. For instance, inhaling directly from the canister can cause suffocation, frostbite and even death.
Help us educate young people of the dangers of N20 – reduced usage will also result in less litter!
What if you are caught dropping litter or urinating on the street?
To help keep our streets clean, we have Enforcement Officers who are currently out on our streets day and night. They are there to:
Educate residents and businesses about their waste disposal duties and responsibilities
Investigate reports of dumped rubbish; identify where it has come from and who has dumped it
Enforce waste related legislation by issuing penalties and prosecuting individuals and organisations found to be responsible for fly-tipping
If you are caught, you can be served with a Fixed Penalty Notice for £100 or face prosecution and a maximum fine of £2,500 on conviction.
Graphics and posters
Download our social media graphics and posters and display on your social media accounts, or in your windows. We all need to stand together to Fight Dirty!
Graphics for social media
Posters