Our Stories - written histories
Hi, my name is Eden-Rose and this is my story.
I've lived and studied in Richmond upon Thames for 2 years. I'm a student at Twickenham School and I'm currently in Year 8. I love studying in Richmond, it has a rich history and lots of green spaces to enjoy.
My Grandmother at aged 17 travelled from the Caribbean island of Dominica on a ship called 'The Venezuela' in 1963. She was part of the Windrush Generation.
My maternal grandparents both come from the Caribbean, Dominica and Grenada, but my paternal grandparents come from Ghana, a country in west Africa. We are part of the Ga Tribe, which I am very proud of. My culture - because of all of these countries that I'm a part of - is very rich.
My favourite piece of Black history is my nan's story. I'm very proud to be a descendent of the Windrush Generation who came to Great Britain a country they never knew to contribute after the war. They experienced racism and exclusion but worked hard and because of them I am here.
My proudest moment is from last year when I performed classical flute with my youth orchestra at The Royal Festival Hall and I also ended my first year at Twickenham School as the Year 7 student awarded with the most merits.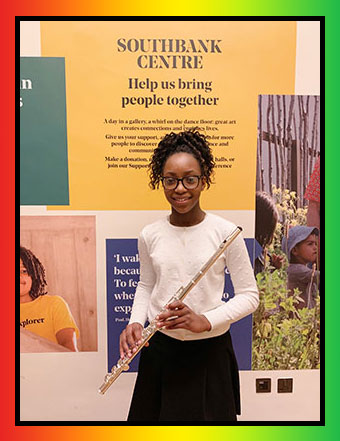 How long have you lived/worked/studied in the borough for? 13 years
What is your family history? My parents came from Democratic Republic of Congo (formerly known as Zaire). I was born there but emigrated with my parents to Germany when I was two years old. My brothers and sister were born there and except for me my immediate family still lives and works in Germany. I first came to the UK in 1989 - Aberdeen - to study for my degree. After university I returned a couple of years to Germany before returning to live (Mortlake) and work here in 1994.
What is your role in the community? (I lived in the borough - Mortlake/Sheen - for over 10 years, before moving 200m outside the borough). I work in Twickenham and also attend college (RHACC) in Richmond.
Why do you like living in Richmond upon Thames?:
Mortlake, (East) Sheen and Barnes have a very homily feeling. Prior to working in the borough I worked in the city and it was always a relief to come home to a tranquil and clean environment - not only surrounding, but also people/neighbours.
With the Thames only 1min down the road, Barnes village 5mins walk, Richmond Park 10mins walk away; a variety of independent shops and especially restaurant it had a small town/village feeling.
Most important, it is close enough to the city of London if I want to go out in the west end, yet far enough from there to be calm and peaceful.
What are you most proud of since living in Richmond upon Thames? The international flair in Richmond town centre. The annual Barnes fair which brings the village together. The "invasion" each year for the boat race. The game day atmosphere in Twickenham, the beautiful open space of Kew Gardens, the craftmanship of Hampton Court Palace and its beautiful garden (and Maze).
Do you have any specific stories about your family culture or history that you would like to share? Throughout my school years in Germany - back then still known as West Germany - I was the only black child at my school. - For years' I was on the school athletics team; after being unbeaten in long distance running for my last four years at primary school, at academy I want to join the school gymnastics team. That came as surprise to the sport coach at the academy, (the academy bordering the primary school, she watch/saw me at the various meets), however she still encouraged me to try out and supported me. - After winning a spot on the school's gymnastics team she told me "Never give up on your dream of what you want to achieve. - True, there are, at the moment, no black gymnast, but you can be a trailblazer and lead the way."
This was a great encouragement to me and I lived by that notion ever since. Challenge myself, aim high and try to smash the 'invisible' glass ceiling.
My mother says: The only person to stop yourself achieving anything is yourself! - The way is not always straight forward, it may have have one curve or be a severe serpentine, if you really want to achieve it you can. Go for it.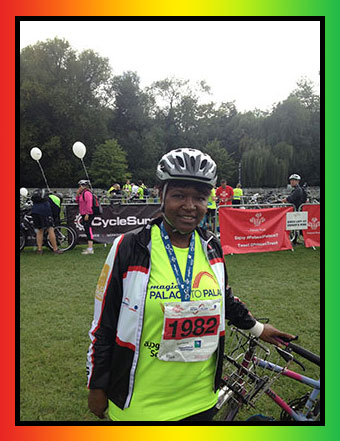 Hello I am Joanne Logan and this is my story.
I grew up on island of Trinidad in the Caribbean and I'm of Indian heredity. I am a qualified teacher, engineer and interior designer and I have been living in Richmond upon Thames for the past fifteen years. During this time, I have worked tirelessly to build my own business 'Design & Conker Interiors'. This has not been an easy journey for me as I don't reflect the mainstream perception of an interior designer. I am a brown immigrant who is not from a privileged background. I am also confident, candid, creative and very good at what I do. Alongside developing my business, I have also been on a journey of self-discovery. Who was I and how was I perceived - Indian, West Indian or British? I was born in one part of the world, looked like I was from another and felt most connected to where I lived. Today, I am an out and proud British West Indian interior designer who lives in Richmond.
The Caribbean influences my creativity. I often draw upon its vibrancy and colours - the intense oranges of the bird of paradise flower against striking blue skies or the piercing vermillion of the scarlet ibis nestled in lush green tropical trees and stilted mangrove swamps. My designs tend to be monochromatic with a punch of visual pop.
Have I experienced racism here? Yes, prejudice and racism aren't always loud but certainly sharp when experienced. The frosty gazes, body shifts, and tight smiles are a few subtle ways of letting you know that you are not...but not what? Is it skin colour, accent, dress, food, language – you're never quite sure what but definitely know that something is there. The Black Lives Matter Movement has given opportunities to brown and black people in the UK to talk opening about diverse experiences. I am proud to be here and part of this empowering journey of change.