Listen to a nurse talk about his experience of COVID-19
Release Date: 06 November 2020
Nurse Mark Sheen spent three weeks in Kingston Hospital critically ill with COVID-19 and spoke to Talk Richmond about his experience.
You can listen to the episode online or by searching for Talk Richmond on your podcast application.
Mark contracted COVID-19 in early April. He had a temperature, a new cough and a loss of sense of smell and taste. He rapidly deteriorated after one week and began to have trouble breathing. An ambulance took him to Kingston Hospital where he spent time in the Intensive Care Unit.
Mark uses his medical experience to clearly explain what happened to him. This included having to spend twenty-two and a half hours a day wearing a CPAP Hood, which provides a continuous positive airway pressure and looks like a large plastic hood. To learn about this and his experience, listen to the 15-minute-long episode now.
Talking about his time in hospital, Mark said:
"Unfortunately throughout my experience there I witnessed a number of people who died and it's the sort of thing you can't unsee and it sort of plays on your mind because you think to yourself well am I going to be next? And I had thought long and hard about that question and I had resigned to myself that there was a high probability that I might not get out of hospital."
Cllr Jim Millard, Tenants' Champion and host of Talk Richmond, said:
"Mark is 53 years old and had been living a healthy lifestyle before contracting COVID-19. His experience, both in the hospital and as he continues to feel the long-term effects today, is truly sobering. As we enter this second lockdown, listen to Mark's struggle as a reminder to do all you can to stay safe."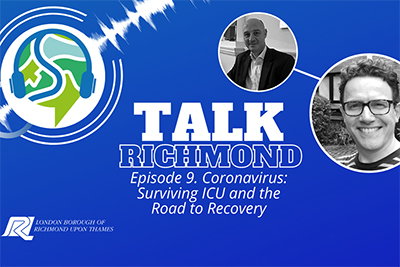 Notes for editors
If you are a journalist and would like further information about this press release, contact  Fenna Maynard on 020 8487 5182.
Reference: P438/20