Strengthening links with our twinned towns
Date: 24 May 2023
Author: Councillor Suzette Nicholson and Councillor Fiona Sacks
Title: Mayor of Richmond upon Thames and Deputy Mayor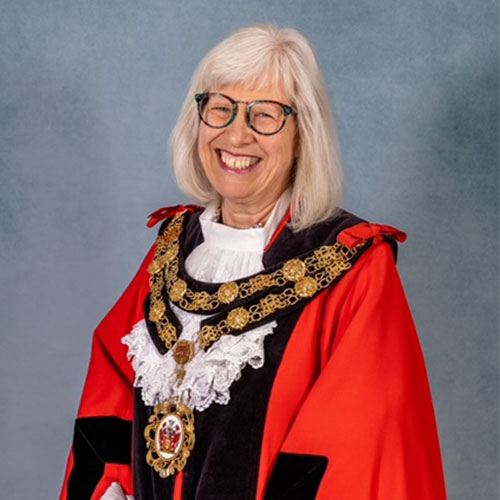 I have just returned from Fontainebleau in France, where I was pleased to have represented Richmond upon Thames, along with members of the Richmond in Europe Association. This was my first event since I became Mayor, at the Council's AGM on Tuesday 16 May.
Richmond has been twinned with the town of Fontainebleau since 1977. The main features of the town are within a short walk of each other. While we were there we were well looked after and were able to explore Fontainebleau and meet the Mayor and Deputies of the city.
The first photograph shows the Municipal Theatre with the flags of european countries twinned with Fontainebleau who were visiting. One of them being Konstanz in Germany, who Richmond is twinned with too. Also, there has been a special fingerpost erected outside the town hall showing the distances to their twinned towns. Richmond is the closest! The second photograph shows the official installation which happened on Saturday afternoon. A small piece of the ribbon was given to each of the Mayor's of the twinned cities which I thought was a nice gesture. You can find out more about this fingerpost, and our own in Twickenham, from the Richmond in Europe Association.
Twinning encourages sporting, cultural, educational, and business links and within these activities friends are made. The theme of the weekend was 'The Cities of Tomorrow' and the Leader of the Council, Cllr Gareth Roberts, gave a presentation about Richmond. It was good to share ideas of how to run towns and how this might change in the future.
There were also visits to INSEAD's European Campus. Laboratories of the School of Mines and the municipal recycling facilities.
One of the highlights was the European Youth Orchestra's 10th Anniversary Concert. Members of the Richmond Music Trust, led by Charlotte O'Brien joined in and the whole concert was a delight to listen to.
On the last morning we had a tour of the open-air market and a visit to the chateau. Originally this was a hunting lodge but now is an impressive palace and former royal residence. It became a national museum in 1927 and was designated a UNESCO heritage site in 1981.
We returned home, tired but having strengthened links with our twinned town of Fontainebleau.
Find out more about twinning and our twinned towns.
Find out more about our twinned towns.
This is the first of a new fortnightly series of blogs from the Mayor of Richmond upon Thames, Cllr Suzette Nicholson, and Deputy Mayor, Cllr Fiona Sacks.
Find out more about the Mayor of Richmond upon Thames.