Back to school
Date: 31 August 2021
Author: Cllr Julia Cambridge
Title: Vice-chair, Education and Children's Services Committee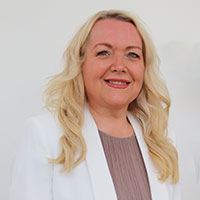 Thinking back to schooldays 15 years ago when my daughter was six, the only times children would be covering their faces was during hide-and-seek, and being 'sent home to isolate' just followed an outbreak of impetigo!
Things have changed for the nation's learners beyond recognition: home schooling, online lessons, separation from close friends and a whole heap of rules and regulations - once you are allowed back into the classroom.
So, what's in store as we approach the first day back after the summer holidays?
In 15 years some things have not changed. Children grow, so that panic for the right kit for the perfect fit happens some time in August. Then there is the inevitable and understandable anxiety that lies behind the following questions; 'What if my friends don't like me anymore?'; 'I'm in a new year, what if I don't fit in?'; 'Have I chosen the right subjects?' and 'I have to get up at WHAT time!!'.
For some parents and carers it can be liberating to pack your loved ones off for the day. Others can end up feeling more het up about the return to school than their child. Speaking to a mum of two recently she shared with me that when they got the list of the new academic year groups she saw her daughter was due to be split up from her best friend. She was only held back from mounting a full campaign against this when her youngster took her gently by the hand and screamed 'You are so embarrassing! Don't you dare call the school!!!'.
So as the glue dries on the sticky name tapes attached to jumpers and gym socks and the siblings stop insisting on inappropriate uniform embellishments, let's spare a thought for how far we've come. September 2021 is going to be epic. Good luck everyone.