Date: Wednesday 12 August
Author: Jo Steer
Title: Associate Director for Emotional Health Services, Achieving for Children
See the Council's statement regarding the A-level results
Advice to students and parents/carers
Exam results day is always a nervous time for young people, their families and their schools. However, this year more than ever those feelings of anxiety and uncertainty are likely to be bubbling over. The year has been a rollercoaster for everyone, but those students in Year 11 and Year 13 have not had an easy time, despite not having to sit the exams. Exam results day can seem like your whole future is resting on what you get.
It is normal to feel worried or stressed at this time, but try to make sure you talk to those around you about how you are feeling, go for a walk or do some exercise, do something fun to take your mind off your worries. If you are a parent, make sure your child knows that you love them, no matter what their results. You could log on to www.kooth.com if you are feeling really worried or down and join a forum or message a counsellor.
If your exam results aren't what you hoped, try not to panic. There will be a way forward and there are lots of people who can help you to work out what to do.  You can call the 14-25 team's Summer Support helpline to talk to a qualified careers adviser. The line is open from 12 to 4pm from 13 to 31 August 2020.  
How the results are being calculated
For GCSEs, AS and A levels your school or college have sent the exam boards a centre assessment grade (CAG) for you in each of your subjects, and a rank order of students in each subject. Exam boards standardised this information, making adjustments to grades where needed to bring consistency and to make sure results are comparable with previous years. This is in your interests and means that you, universities, colleges and employers can have confidence in results this year.
Ofqual have produced a helpful student guide explaining the changes and process for this year.
What to expect
When you receive your results on either 13 August or 20 August they will look exactly the same as any other year, even though the grades have been awarded differently this year. These grades will be the final calculated grades, which may differ from the CAGs provided by your school.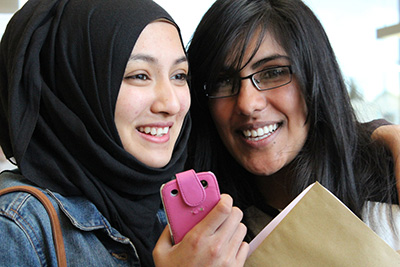 What if your results aren't what you expected
If you aren't happy with your results, you should first speak to your school or college about your different options, which include:
If you think an error was made by your school when they submitted your CAG or by the exam board when calculating your grade, your school is able to appeal on your behalf. Please note this does not apply if you disagree with the CAGs your school gave you. The deadline for appeals is 17 September
As announced in a DfE statement on 12 August, you may also apply to use a valid mock grade instead of your calculated grade, although exact details of this are yet to be published
You can choose to sit exams in the autumn series (5 October - 23 November). If you do so and achieve a different grade, the higher of the two grades will be used. The deadlines for entry are 4 September for AS and A levels, 18 September for GCSEs excluding English language and mathematics and 4 October for GCSEs in English language and mathematics
The previously mentioned student guide has a summary of the different scenarios.
Where to find more support
DfE
Website: https://www.gov.uk/guidance/your-results-what-next
The Exam Results Helpline
Telephone: 0800 100 900
Website: https://nationalcareers.service.gov.uk/
Ofqual
Telephone: 0300 303 3344
Website: https://www.gov.uk/government/organisations/ofqual
UCAS
Telephone: 0371 468 0468
Website: https://www.ucas.com/undergraduate/results-confirmation-and-clearing/who-contact
Mental health support
If you are feeling anxious or struggling with your mental health, please contact someone you can trust. You can also contact:
Young Minds
Telephone: Text YM to 85258
Website: https://youngminds.org.uk/
Childline
Telephone: 0800 11 11
Website: https://www.childline.org.uk/