COVID-19: Sports update - March 2021
Following Government guidance, our Sport and Fitness Centres (including pools) are now beginning a phased reopening.
We are currently following the Government's 'Roadmap' for the reopening of our services.
London Youth Games is Europe's largest annual youth sporting event where the 33 London boroughs compete against each other in over 30 different sports, including sports for young people with disabilities.
Team Richmond represent the London Borough of Richmond upon Thames at the Games and are proudly sponsored by the Harlequins Foundation.
Virtual London Youth Games 2021
London Youth Games have launched their Virtual Inclusive Games. The games are eight weeks long and consist of three challenges a week which are released Tuesday, Wednesday and Thursday. You then have until Sunday 6pm, to record and upload your score for Team Richmond!

Check the London Youth Games website for daily uploads of new challenges and also to upload your scores.

Go Team Richmond!
Richmond are Nike X London Youth Games Virtual Cross Country winners!
Congratulations to all runners who took part in the Virtual Cross country for Richmond in December 2020. Richmond had over 500 runners take part in the competition and are proud winners of the virtual competition.
Previous results
London Youth Games 2019
Team Richmond finished in fourth place overall in the London Youth Games 2019. Full report to follow.
View past results from recently held events.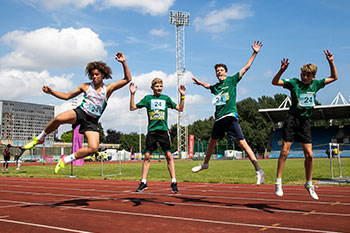 Contact
For more about London Youth Games events, contact us by:
Telephone: 020 8831 6133
Email: londonyouthgames@richmond.gov.uk
Our office opening hours are Monday to Friday, 9am to 5pm.
Updated: 11 February 2021