Update on ongoing disruption
Read our update to residents on some of the current issues being faced by our Sport and Leisure team that has resulted in some facilities being closed.
London Youth Games is Europe's largest annual youth sporting event where the 33 London boroughs compete against each other in over 30 different sports, including sports for young people with disabilities.
Cross Country 2022
The London Youth Games 2021/2022 season will kick off with the Cross Country competition, which will take place on Saturday 20 November 2021 at Parliament Hill. To be considered for team selection, athletes must run a parkrun between Saturday 2 and Sunday 31 October 2021.

Complete the application form to be considered for the Team Richmond Cross Country Team.
Richmond are Nike X London Youth Games Virtual Cross Country winners!
Congratulations to all runners who took part in the Virtual Cross country for Richmond in December 2020. Richmond had over 500 runners take part in the competition and are proud winners of the virtual competition.
Previous results
London Youth Games 2019
Team Richmond finished in fourth place overall in the London Youth Games 2019. Full report to follow.
View past results from recently held events.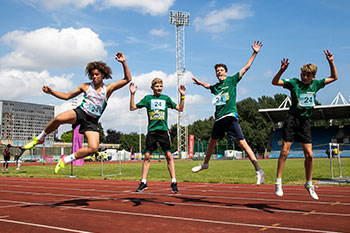 Contact
For more about London Youth Games events, contact us by:
Our office opening hours are Monday to Friday, 9am to 5pm.
Sign up to our Sport in Richmond Newsletter