Face coverings and masks help protect those around you and will help us all slow the spread of the virus. Face coverings help to stop the spread of the virus if you have COVID-19, especially if you don't have any symptoms. 
Remember, if you do develop symptoms you should remain at home, self-isolate and book a test.
Why wearing a face covering helps
Face coverings help by catching the small droplets we sometimes spread when we talk or cough. These can contain coronavirus (COVID-19) and land on surfaces and other people. This can be an issue if someone has the virus, but no symptoms. By wearing a face covering you protect those around you and they protect you by wearing theirs.
Remember, if you feel unwell you should stay at home and book a test.
Face coverings are not the same as Personal Protective Equipment (PPE) or medical face masks, those are used in very specific circumstances like health and care settings.
Who should and shouldn't wear one?
From 27 January 2022, face coverings are no longer required by law in any setting. Public health guidance will remain in place, suggesting individuals should continue to wear a face covering in crowded and enclosed spaces, where you may come into contact with people you do not normally meet.
You will also be required to wear face coverings when entering an NHS setting, including GPs, hospitals and pharmacies.
Richmond Council has created a pin badge that can be worn by those people who were previously exempt from wearing a face covering, to explain to others why they are not wearing them. We hope these badges will provide support to a number of different groups, including those with hidden conditions, to communicate their exemption to staff and those around you.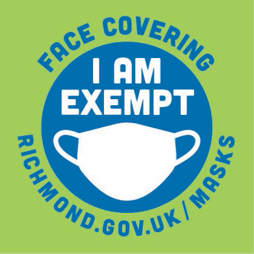 If you would like a pin badge, please complete this form or call 020 8891 1411 and a badge will be posted to you. Please note that these badges are only available to residents in Richmond upon Thames.
Wearing and washing your face covering safely
It is important to remember that even if your mouth and nose are covered the infection can be spread on your hands. 
Always wash your hands for at least 20 seconds with soap, when you get home and before and after handling your face covering in any way. Avoid touching your face, nose, mouth and eyes at all times.
If you are using a single-use face covering, please ensure you dispose of it safely in your black bag rubbish at home if possible. Never litter your face covering or gloves. This puts other people at risk, especially refuse collectors and street cleaners.
Remember that wearing a face covering is not a substitute for washing your hands frequently, and keeping at least 1 metre + from others. 
Putting your face covering on
Wash your hands. Don't touch your face or face covering with unwashed hands or gloves. Put the covering on without touching the front of the covering, and ensure loose ends are tucked away when you have it on.
Taking your face covering off
Remove your face covering trying not to touch the front or face covering area. When you have removed it, store it in a plastic bag until you have an opportunity to wash it. Make sure you wash your hands for at least 20 seconds with soap after handling your face covering. 
Washing your face covering
Face coverings can be washed as part of your laundry and using your normal detergent.
Make sure you wash your hands after handling a used face mask and avoid touching your face and eyes. Once removed make sure you clean any surfaces the face covering has touched.