To celebrate Car Free Day on Sunday 22 September, we will be encouraging residents across the borough to apply to close their road, and encourage children to play in the streets where they live.  
Applications for 2019 have now closed.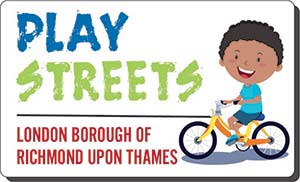 About Play Streets
A Play Street is a simple, effective and low-cost way for children to be able to play out in the streets where they live.
How it works
Councils can use their existing powers under road traffic legislation to allow temporary street closures.
Local parents and other residents act as marshals, allowing their neighbours to drive to and from their homes at walking pace, while through traffic is re-directed.
The benefits of Play Streets
There are benefits to having a play street on your road, which include:
Allowing children to play close to home
Giving children the space to play safely
Increasing a sense of community by bringing neighbours together
Encouraging more activities to take place in the local area
Helpful templates
The templates below will help you organise your Play Street: