Out of this world advice from UK's first astronaut for children across the borough
Release Date: 27 April 2020
The UK's first astronaut has offered her advice and experience to children and young people across the borough, on how to deal with isolation and being away from friends and family.
Helen Sharman, who lives in Richmond, became the first British astronaut when she visited the Mir space station in May 1991. Over the past few weeks, nearly 100 children and young people from across the borough have sent in video questions for her, looking for inspiration on how being isolated in space, compares with the current UK lock down.
Submissions were from children aged 4 to 17 years old and covered areas including:
Can coronavirus go into space?
How old do you have to be to go to space?
What is it like being in isolation and how did it compare to the UK being in isolation now?
How do you exercise when you are in space?
Did you miss your friends and family and how did you cope and keep in touch?
How hard did you find not having fresh air?
How did you stay positive?
What advice would you give young people in isolation?
What advice would you give young people wanting to be an astronaut?
A documentary has now been made compiling many of the questions that were submitted. To see the documentary, go to: https://youtu.be/PanP3iMjz5o.
Now, schools and children are encouraged to be inspired by Helen and get creative at home. As part of the Council's #RichmondGetCreative project, children are being invited to use materials found at home such as plastic bottles, toilet paper rolls, cooking foil, food packaging, cardboard, even out-of-date dry pasta, to create their very own small rocket.
Photographs of rockets can be sent to: campaigns@richmond.gov.uk or shared on Twitter or Instagram using #RichmondGetsCreative by Friday 8 May 2020.
Submissions will be shared with Helen for review and the winner will be in with a chance of winning a signed world globe.
Cllr Gareth Roberts, Leader of Richmond Council, said:
"We are honoured to have the UK's first ever astronaut living in our borough. Children were excited to have the opportunity to ask her a question and I would like to thank her for spending the time to answer them.
"Staying at home is tough on all of us. But many children particularly are finding it hard to be away from school, friends and family. Helen's experience and knowledge of surviving isolation in space will provide inspiration, hope and ideas to many of them."
Helen Sharman, added:
"Choosing to put myself in a small spacecraft, with only a few other people, having planned and trained for this over many months, is not completely similar to the COVID-19 circumstances of uncertainty, self-isolation and social distancing. However, there are some similarities of the current situation with being confined to a spacecraft in a hazardous environment.
"I hope that my answers to the questions from the children in the borough will provide some reassurance, tips and indeed hope, that we will all get through this.
"Keeping yourself busy with daily activities is very important in keeping your mind and body healthy. I look forward to seeing pictures of the rockets created by the young people."
To see the video, go to: https://youtu.be/PanP3iMjz5o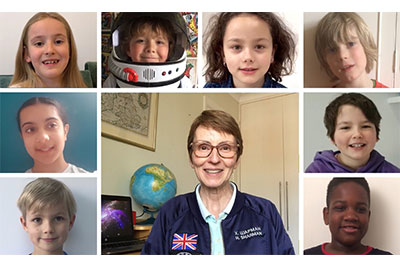 Notes for editors
If you are a journalist and would like further information about this press release, contact Elinor Firth on 020 8487 5159.
Reference: P136/20