Update following the state funeral of Queen Elizabeth II
20 September 2022
The period of national mourning following the death of Queen Elizabeth II has ended. Read more to find out how to pay your final respects to the Queen, and details of changes to waste and recycling collections this week.
Waste and recycling
Waste and recycling collections will take place one day later than usual. For example, Monday collections will take place on Tuesday and Friday collections on the Saturday. Normal domestic collection schedules will resume a week later on Monday 26 September.
Books of Condolence
Books of Condolence will remain open in Richmond upon Thames until 5pm on Tuesday 20 September.
Physical books are available at the York House reception and Civic Centre reception in Twickenham and at each of the libraries. If support is needed to write a message in the physical book, Council officers are available to help.
Opening hours:
Civic Centre: Monday to Friday, 9am to 5pm
York House: Monday to Sunday, 9am to 5pm 
Libraries: Check individual library opening hours 
For residents who are unable to sign the online book or visit one at the above locations, messages may be sent by post and the Council will add these to one of the physical books. Please send written messages to:
Book of Condolence
c/o The Mayor's Office
York House 
Richmond Road
TW1 3AA
Once the books are closed the books will be archived at the Richmond Reference Library.
Buckingham Palace is welcoming messages from the public in an online Book of Condolence. 
Flowers
Public floral tributes in Richmond upon Thames can be laid on the main driveway at York House, in Twickenham.
Tributes will be kept for up to two weeks following the funeral of the Queen (although any withered or dead flowers will be removed on a regular basis).
We ask members of the public to leave flowers only.
All endeavours will be made to compost the flowers, so we ask that people please remove any cellophane or other wrapping/packaging before laying.
Any cards left alongside floral tributes will be collected and added to the borough's physical Book of Condolence.
Any other forms of tribute that are left (e.g. teddy bears), will be considered for archiving or will be recycled.
The Proclamation
The Proclamation is the formal announcement of the new monarch. It was made by St. James' Palace at 11am on Saturday 10 September 2022.
The Proclamation was made locally by the Mayor of Richmond upon Thames, at a short formal ceremony at 2.30pm on Sunday 11 September on the steps of York House in Twickenham.
Civic Service of Commemoration
On Sunday 18 September, the Mayor of Richmond upon Thames hosted a civic service commemoration for Queen Elizabeth II at St. Mary's Church in Twickenham.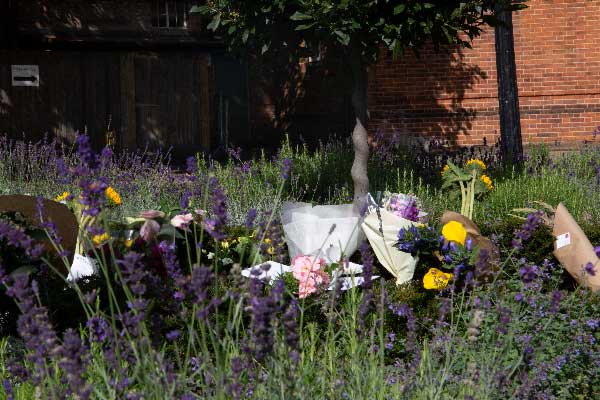 Updated: 26 September 2022