Strawberry Hill Flower Festival returns for 2022

7 September 2022
The Strawberry Hill House Flower Festival returns for a fourth successive year on 23 -25 September with a spectacular showcase of the very best of British-grown flowers, foam-free sustainable floristry and the design creativity of the UK's leading floral designers.
Curated by Leigh Chappell and Janne Ford, the Strawberry Hill Flower Festival is produced for the first time this year in association with Flowers from the Farm, the award-winning membership organisation championing artisan growers of local, seasonal British cut flowers.

With vividly decorated or gilded rooms, illuminated by beautifully shaped windows, complete with stained glass, Strawberry Hill House in Twickenham offers a breath-taking setting for the three-day Flower Festival. Shining a spotlight on the beauty, variety and versatility of the fresh and dried flowers and foliages cultivated by British flower farmers, the Flower Festival gives free creative rein to the invited florists to share their artistry, expertise and passion for sustainable floral design in design installations and floral demonstrations throughout the remarkable Gothic manor house.

The Flower Festival has developed a devoted following and become a highlight in the event diary at Strawberry Hill House, as festival manager, Claire Leighton explains: "Visitors were amazed. I spotted one visitor looking at the stairs and saying, 'I didn't realise flowers could look like this'!"

Throughout the Flower Festival, guided tours of the transformed House will be available, including an evening of tours and a much-anticipated floral demonstration on Friday 23 September by acclaimed florist and sustainable floristry advocate, Shane Connolly, who holds Royal Warrants of appointment to HM The Queen and HRH The Prince of Wales.

There will be sessions showing visitors how they can adopt more sustainable methods of flower arranging, plus a chance to quiz Strawberry Hill's own gardening team about your horticultural hiccups from reluctant rhododendrons to drooping dahlias.

Visitors to the Flower Festival should make time to wander around the wonderful grounds of Horace Walpole's five-acre garden, that has been faithfully restored to much of its original appearance, with a variety of beds, borders, walks, groves, lawns and woodland that would be wholly familiar to him today.

Tickets for the Flower Festival are available online now. Prices, tour and talk times can be found on Strawberry Hill House's website.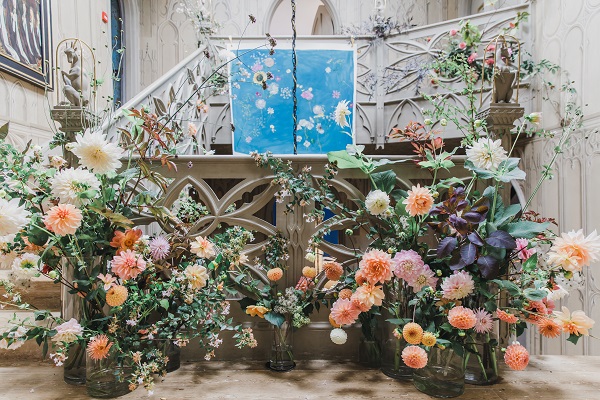 Community news on behalf of Strawberry Hill House and Garden
Updated: 7 September 2022