New date announced for Council's trial community skip scheme
26 September 2022
Following its postponement earlier this month, residents will have the opportunity to declutter their homes for free by using one of the Council's new mega skips on Saturday 1 October.
In an effort to help residents dispose of items responsibly, Richmond Council will trial the use of community skips at two separate locations in the borough. The Council offers a bulky waste collection service but residents will now have the opportunity to bring their old possessions to the community skip to recycle their items.
The skips will be located at Bloxham Crescent in Hampton and at the corner of Stillingfleet Road and Barnes Avenue in Barnes.
Residents can take up to six items along with them to the mega skip for free, including some electrical equipment and household items like mattresses and sofas.
Council officers will be present on the day to share information about support on offer through the Community Ambassadors as well as providing recycling tips to residents at the Hampton site.
Mega Skip Day will take place on Saturday 1 October, from 9am to 12pm. The skips will be located at Bloxham Crescent in Hampton and at the corner of Stillingfleet Road and Barnes Avenue in Barnes.
As we expect high demand on the day, we will operate on a first come first served basis. When the skips are full we'll let you know via Twitter, check @LBRUT before you set off.
We are limiting the number of items you can bring to no more than six items per household so that everyone has a chance to make use of the skips. One bag of rubbish counts as one item, as does one sofa, one mattress etc.
The skips are open to residents of the London Borough of Richmond upon Thames only, proof of address may be required.
We can only accept certain items.
We can accept:
Household waste only: the skips are for household waste only – no business waste.
Carpet
Computers and IT equipment
Furniture - e.g. mattresses, sofas, tables etc...
Microwaves and small electrical appliances
Batteries (but no car batteries)
 Bicycles
Cardboard
Black bags
We cannot accept:
Hazardous objects or dangerous materials/chemicals: please do not bring anything hazardous in such as sharp objects, needles, dangerous chemicals, plasterboard, flammable liquids and asbestos.
Paint
Concrete
Garden Waste
Car batteries
Cement, rubble or hardcore
Plasterboard
Engine oil/cooking oil
Fridges or other large electrical appliances
Other waste services:

Cllr Julia Neden-Watts, Chair of the Environment and Sustainability Committee, said:
"As a Council we want to work with residents to keep our borough clean and green. The mega skips will give residents the opportunity to get rid of their old and broken items free of charge. If the trial is a success we will look to roll the mega skips out to other areas of the borough in due course.
"Fly-tipping remains unacceptable. If you witness fly-tipping in the borough please report it to us directly."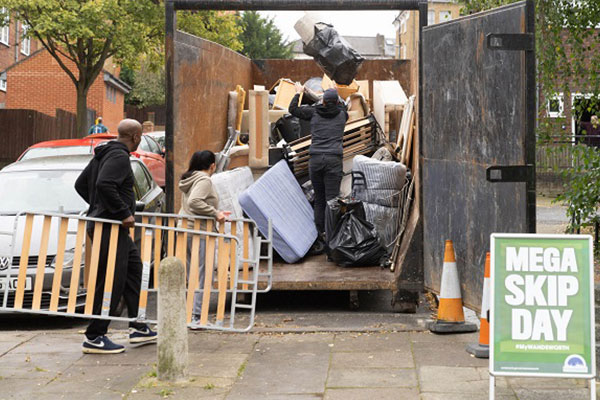 Updated: 27 September 2022