The Mayor of Richmond and Sarah Olney MP unveil twin towns information board in East Sheen

14 September 2021
Last Friday (10 September), Local MP and REA member, Sarah Olney, joined the Mayor of Richmond, Cllr Geoff Acton, to unveil another information board about Fontainebleau and Konstanz outside the East Sheen centre.
The St. Margaret's Elastic Band, who are twinned with Union Musicale de Fontainebleau, entertained a large crowd with a programme of English, French and German music prior to the ceremony beginning.
The information board was then unveiled to the strains of Beethoven's 9th Symphony. This information board is the third of its type to be unveiled in the borough. The information boards were designed by REA treasurer, Hugh Morrison. The other two can be found in Orleans House Garden and the Riverside Terrace Garden in Richmond. Sarah and Geoff later visited East Sheen library, which is currently exhibiting a display about the twin towns to coincide with the unveiling.
During the upcoming climate week (1 to 8 November), service trees of Fontainebleau, which originate from the Forêt de Fontainebleau, will be planted on the green by the new information board as well at other sites throughout the borough.
Watch the unveiling ceremony below.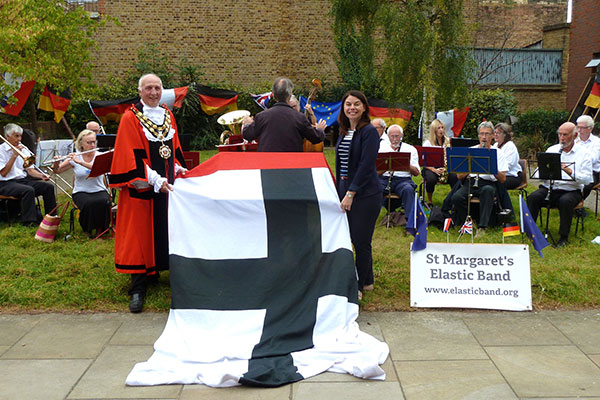 Community news on behalf of Richmond in Europe Association