Drinking fountain on Richmond Green restored with funding from Civic Pride Fund
24 September 2021
A 19th century drinking fountain on Richmond Green has been restored after the Friends of Richmond Green were awarded funding through Richmond Council's Civic Pride Fund.
The Civic Pride Fund aims to improve local areas by enabling local people to develop and deliver their own responses to local issues while making public places more attractive and enjoyable for residents and visitors.
In recent years the water fountain on Richmond Green, which dates back to the 1860s, became badly damaged, cracked and stained with moss. It was last refurbished in 1977 for the Queen's Jubilee.
Following an application from the Friends of Richmond Green, the Council awarded £5,000 from the Civic Pride Fund towards renovating the facade of the fountain. This funding, along with donations from film and television productions filmed on Richmond Green, and contributions from other grant funders, including Heritage of London Trust, has enabled the fountain to be brought back into use. It now dispenses clean drinking water allowing residents to refill their water bottles which will benefit residents and visitors to the Green for years to come while enhancing the look of Richmond Green. 
The drinking fountain was officially unveiled by the Deputy Mayor, Cllr Suzette Nicholson, Council staff and representatives from the Friends of Richmond Green at a special opening ceremony which took place on Thursday, 16 September.
Cllr Julia Neden-Watts, Chair of the Environment, Sustainability, Culture and Sports Committee, said:
"On average, adults in London each buy more than three plastic water bottles every week. That's an awful lot of plastic. But visitors to Richmond Green can now access free drinking water from the fountain, and I hope this will help reduce the amount of single-use plastic bought. I'm delighted that the Friends of Richmond Green have done such a great job restoring the fountain for residents and visitors to enjoy."
Vivien Harris, Chair of the Friends of Richmond Green said:
"The restoration of the drinking fountain has been an aim of Friends of Richmond Green for several years. What started out as a simple refurbishment to the stonework soon developed into the more major project of restoring water to the drinking fountain and replacing the existing red block paving with York stone. We finally achieved our goal in March 2020, only for the COVID-19 pandemic to stop its use but this month we were delighted to turn the water back on and celebrate its official opening."
Find out more about the Civic Pride Fund and how to apply.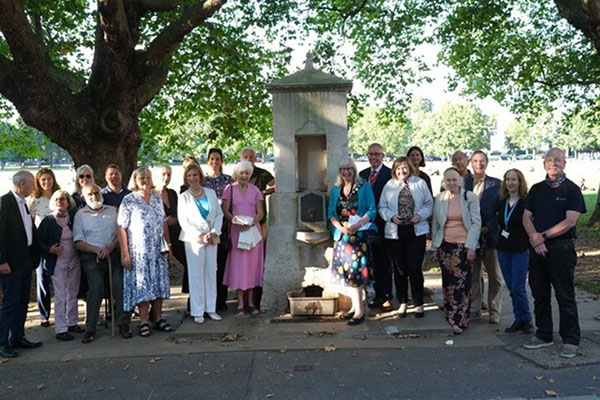 Updated: 24 September 2021