Lead Borough GP gives the facts on 12 to 15 year old vaccine rollout in latest podcast
28 September 2021
Listen to the 15 minute Talk Richmond podcast episode with local GP Dr Patrick Gibson, who shares detail about the rollout of the COVID-19 vaccine to 12 to 15 year olds.
Dr Patrick Gibson, the Lead Borough Chair for the Richmond Clinical Commissioning Group, covers the following: 
How the decision to vaccinate younger people was made, including the roles of the Join Committee of Vaccination Immunisation and the Chief Medical Officers.

The data and evidence supporting the roll out of the vaccine to children and young people.

Side effects, how rare they, what to look out for

.

How the rollout of the vaccine will work in schools and what parents can expect in terms of giving consent.

The decision to currently only give this age group one vaccine.
Listen to the podcast on the website or by searching for Talk Richmond on your podcast application and downloading the episode. 
Let us know what you think of the podcast and the episode by emailing talk@richmond.gov.uk.
Cllr Jim Millard, Spokesperson for Housing and the host of Talk Richmond, said: 
"As a parent, I found my conversation with Dr Gibson to be very helpful. He answered all of my questions in great detail and with balanced information that has left me feeling reassured. I urge all parents to spare 15 minutes to listen to this important Talk Richmond episode."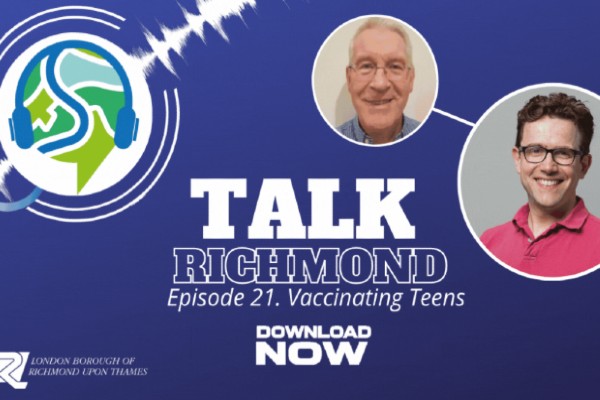 Updated: 28 September 2021