Emergency Services Day
9 September 2021
The Mayor of Richmond upon Thames led Richmond Council's marking of Emergency Services Day (or #999 Day) today, with the flying of a new flag above the Civic Centre in Twickenham.
The Mayor, Cllr Geoff Acton, was joined by Deputy Mayor Cllr Suzette Nicholson, Rob Davies, Borough Commander of the London Fire Brigade in Richmond, Richmond & Twickenham Neighbourhoods Inspector Jon McLoughlin, Cllr John Coombs, Reverend Jeff Hopkins Williams and the Council's Director of Environment and Community Services, Paul Chadwick.
Emergency Services Day promotes the work of the emergency services, promotes using the emergency services responsibly, educates the public about basic lifesaving skills, and promotes the many career and volunteering opportunities available.
Find out more about Emergency Services Day.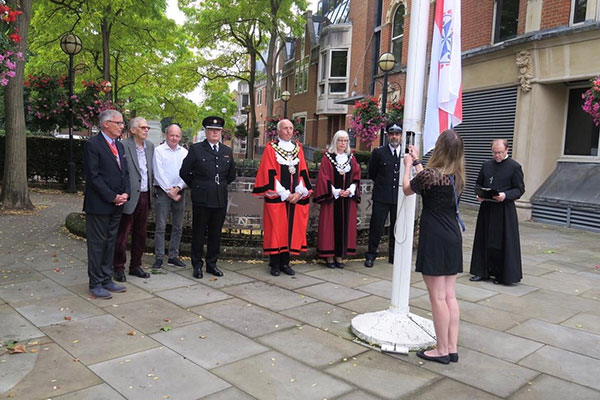 Updated: 9 September 2021