Stories to shape Black History Month in Richmond
Release Date: 02 September 2020
To commemorate Black History Month later this year, Richmond Council is appealing for Black people who live, work or study in the borough to share their stories and experiences - so that we can recognise the outstanding contribution that Black people have made shaping our borough and allow everyone to better understand the histories of fellow residents, colleagues and students.
This October, the Council will launch a programme of events and activities aimed at commemorating the history, achievements and contributions of Black people in Richmond upon Thames and in the UK.
As part of this work, the Council is appealing for residents to come forward and help shape an exhibition which will include stories, experiences, photographs and videos. Stories will explore family histories, traditions, achievements, cultures, and experiences of racism. The exhibition will be shared online and in public spaces around the borough.
At the same time, as part of the borough's Community Conversation programme, the Council is keen to understand the experiences of local Black residents living in the borough to help us improve local services in the future and help challenge any prejudices and behaviours that impact the lives of local people.
We are keen to know more about Black residents' experiences with local racism, how well supported they feel, what matters most to them and what barriers they think exist as a Black resident living or working in the borough.
Euphrasie, who works at Richmond Council and lived in the borough for 13 years has shared her story. She said:
"My parents came from Democratic Republic of Congo (formerly known as Zaire). I was born there but emigrated to Germany when I was two years old. I first came to the UK in 1989 to study for my master's degree in Psychology at Aberdeen University. After university I returned to Germany for a couple of years before living in Mortlake and working in London in 1994.
"In Germany, I was the only black child at my school. I joined the secondary school's gymnastics team, after being unbeaten at long distant running at primary school.
"My coach told me "Never give up on your dream of what you want to achieve. True, there are, at the moment, no black gymnasts, but you can be a trailblazer and lead the way." This was a great encouragement to me, and I've lived by that notion ever since. I challenge myself, aim high and try to smash the 'invisible' glass ceiling."
Cllr Michael Wilson, Lead Member for Equalities and Diversity, said:
"The horrific killing of George Floyd, the Black Lives Matter movement and the COVID-19 pandemic has magnified the global scale of racial inequality and made plain the urgent need for change.
"If you or someone you know would like to be a part of this powerful project, please get in touch. Help us celebrate, educate and change together."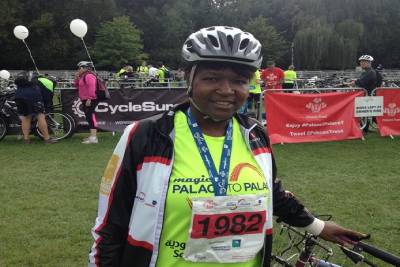 Notes for editors
If you are a journalist and would like further information about this press release, contact Fenna Maynard on 020 8487 5182.
Reference: P348/20