Date: Wednesday 6 May 2020
Author: Friendly Parks for All Project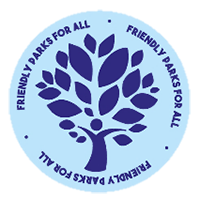 Existing research evidence shows that activities outdoors can be good for our wellbeing. It can make us feel happier, and more satisfied with life, or less anxious and depressed.
For now, parks in the borough remain open for local people to take exercise, (sports equipment and playgrounds are closed). Why not visit your local park? To find out where it is use the Find a Park tool on the Council website or the Ordinance Survey Get Outside tools which allows you to time your walk within the government's guidelines.
There are plenty of ways of incorporating outdoor activities in your life if you can't get out. Gardens are valuable outdoor spaces and there are lots of ideas available from local organisations for including the outdoors while you are indoors. Some of these are listed here.
People visiting Richmond's parks are being urged to follow the latest medical advice on social distancing. This advice can change at short notice so please check before going out. Ignoring the advice of keeping a two-metre gap between people puts yourself and other's health at risk.
Local Organisations
The London Borough of Richmond is famous for its greenery and rivers. There are over hundreds of hectares of formal parks, and nature conservation sites for residents to enjoy. There is also a thriving ecology sector in the borough and numerous "Friends of" parks groups.
These organisations have responded to the current national crisis imaginatively by ensuring that people make the most of  outdoor spaces including gardens, and windowsills following government guidelines.
Friends of Barnes Common
A community growing projects, discussions, stories and links to other resources have all been developed by the Friends of Barnes Common in response to the current crisis. 
Friends of the River Crane Environment
Weekly activities supporting home learning, family activities and themed discussions and other activities are available from the Friends of the River Crane Environment website and via social media.
Environment Trust
Home schooling resources, exploring local ecology and landscape.
Larger Parks
Hampton Court Gardens are closed to visitors but it is possible to explore the gardens and their history through their website. 
London Wetlands Centre, Barnes is closed to visitors but there is still plenty to investigate through their regular blogs, home learning and family fun, and gardening for wetlands. 
London Wildlife Trust manage Crane Park Island, Heathfield. They have created Wildlife from your Window, wildlife themed activities aimed at helping you to support wildlife and get your daily dose of nature, whether you have access to a green space or not. There are Indoor activities, outdoor activities, craft activities, and Wild London TV included in their specially written resources. 
Richmond Park is open to walkers but closed to traffic and cyclists. As Richmond park is often busy, there is plenty of information on their website that allows you to explore the park from the safety of your own home. The Friends of Richmond Park have a series of Family Quiz on their website.
Kew Royal Botanic Gardens is closed to visitors but you can still visit using the Virtual Kew tool which takes you on an extensive tour of the Word Heritage site from your armchair. There are regular ideas, home learning and family activities available. 
Other activities
Take a photo
Take some nature photos in your local park while you are out exercising and share them on social media with your local friends of parks group or other online platforms such as Nature in Richmond Borough.
Explore rivers and canals
The Canal and Rivers Trust have a series of short videos that take you on canal trips. The Rivers Trusts have brought together lots of river related activities for home learning and for families.
The Crane Valley Partnership has been running a virtual tour of the River Crane and the Friends of the River Crane have a number of activities for families and home learning as well as active social media which highlights nature in the Crane Valley.
Have an adventure
The Ordinance Survey have launched Get Outside Inside which includes challenges, blogs and activities from 50 organisations – treasure hunts for children, indoor camping and activities for your dog are just some of the ideas featured.
Visit a garden
Take a virtual tour of a garden. The National Garden Scheme, and the RHS have virtual tours of gardens on their website.
Go on a trip. There are plenty of gardens that you can visit on a virtual tour both in this country and around the world.
Watch wildlife
Watch a live webcam and see wildlife. View the Friendly Parks for All for more information about their project.
To contact us please email parks@richmond.gov.uk.