Reducing your waste during the COVID-19 crisis
Date: Tuesday 31 March 2020
Author: West London Waste Authority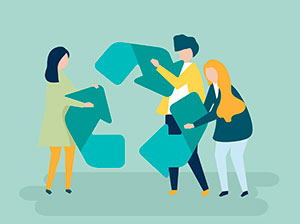 Now that a large proportion of the country's population is spending a lot more time at home, we are expecting a spike in the amount of waste and recycling being produced by households.
Whether you are doing more cleaning, gardening or online shopping, there are simple actions every one of us can do to minimise our waste and help keep waste and recycling services running as smoothly as possible.
Here are our five top tips on how you can help!
Separate your recycling
Whilst local authorities are prioritising collections from homes, if collection staff become unwell, your waste and recycling collections may have to change. It is now more important than ever to make sure we all use our recycling services as much as possible e.g. food, paper, glass and plastics.
If you are not sure what goes in which bin or box, visit the Council's waste and recycling webpages. 
In the current circumstances think hygiene – try to clean your recycling before putting it out and even more importantly used tissues are not recyclable! Please put them into the rubbish and help our collection crews stay safe.
For more information on what to do with your rubbish from Richmond Council or check our waste guidance.
Recycle your food waste
Did you know that around a third of all black bin bag waste is made-up of food waste?
With the possible risk of changes in your regular waste collection service, you can help prevent your bins overflowing or becoming too smelly by separating your food waste into a caddy.
As food waste can also present a health and safety issue, we will work hard to continue collecting your food waste as regularly as possible, even if your general waste collection might be reduced, depending on your borough.
If you would like a free food waste caddy.
Did you know that food waste is a bigger cause of climate change than plastics? Recycling your food waste is one thing that you can do to make sure we are making the most of our resources.
Avoid stockpiling and make meal plans
Stockpiling has led to empty shelves and can create a lot of unnecessary food waste. Help your money go further by making every ingredient count and use your time to sit down and make a meal plan. It's a win-win!
It could also the perfect time to go through your cupboards and see what you have left in the house. Is there anything in your kitchen that you need to use up, such as sauces, condiments, tinned foods or even fresh foods?
Did you know brown, soft bananas are perfect for banana bread and stale bread is exactly what you need for a tasty bread and butter pudding? Most veggies work well together in a stew that you could even freeze to eat on another day.
Check out for for some meal inspiration.
Store smart
Current guidance is to do large, infrequent shops rather than small and frequent ones. The average household in the UK wastes edible food worth around £500 every year. Have a look at this insightful video for some amazing storage tips. Who knew that carrots are better kept in a cupboard and could even go bitter in the fridge? 
Here some of our favourite tips:
Bag clips, laundry pegs or rubber bands can be used to reseal food items and make them last longer. You can do this with items such as coffee, bread, crisps and generally packaged foods.
Save your herbs to by chopping them and putting them into an ice cube tray, about ¾ full. Then pour over boiling water to blanch them (keep their flavour) and freeze.

Use your freezer for a wider range of foods – bread, cooked pasta, milk and eggs. Nearly every food can be frozen in one way or another, you just need to know how! Find out if something can or can't be frozen
Finally, some fruit and veg can make other food go off quicker. For example, always keep your bananas separate from other fruit.
Make your spring clean a summer job this year
This might feel like a great time to do that clear out that has been on your to-do list for a while. However, please be aware that charity shops are currently closed, household recycling centres have also temporarily closed and that collections from kerbside as well as recycling banks near your house could be disrupted. For now, it is best to hang on to the items you no longer want until services are back to normal. 
Through upcycling and mending, you can turn a pre-loved item into something new and unique! If you would like to give this a go, check out the Love Your Clothes' website. Another very simple and easy idea is cutting old clothes up into cleaning cloths, which might come in handy in the next few weeks.
Stay healthy and if you have any further questions or comments please get in touch on info@westlondonwaste.gov.uk.