Policing in London during COVID-19
Date: Wednesday 25 March 2020
Author: Sally Benatar, South West Borough Commander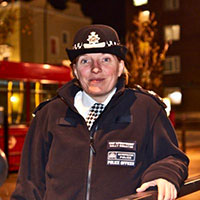 Dear all,
Thank you for your continued support over the past week. The Met Police continues to work around the clock to help keep Londoners safe. We are here to support people, protect lives and prevent crime.
I am sure that you saw the Prime Minister's on Monday night about COVID-19 and you will no doubt have many questions about what this means for policing in London. I hope to provide you with some clarity on this now.
This is a very serious time for the country and for our city. We all have a key role to play in preventing the spread of COVID -19 and ask that our communities and businesses adhere to the new measures. All citizens must now stay at home, except for the following permitted activities:
Shopping for basic necessities, as infrequently as possible and no more than once a day
One form of exercise a day - e.g. a run, walk, or cycle - alone or with your household
Any medical need, to provide care or to help a vulnerable person
Travelling to and from work, but only where this absolutely cannot be done from home
All non-essential retail, including clothing and electronics stores, and other premises including libraries, communal places within parks (playgrounds), and places of worship (except for funerals) will be required to close. All gatherings of more than two people in public, excluding households or work-related are banned; and all social events, including weddings, baptisms and other ceremonies, but excluding funerals with immediate family are also banned.
We fully anticipate the public and businesses in London will want to adhere to the new restrictions to help reduce the spread of COVID-19. In helping people to understand and comply with this new guidance we will, of course, not be expecting officers to stop everyone in the street. We do not at this stage have additional powers to enforce these new measures, but these will follow.
We will be applying our common sense and experience, taking a sensible and graduated approach to the situation. For example, if people are on their own or in a household group there will be no need to speak to them. If however officers see a group of more than two people who do not appear to be a household, they will speak to them and talk to them about the new guidance. They may then need to ask them to go their separate ways and play their part in protecting the NHS and saving lives. If a business is open which should not be then we will remind them of the need to follow government advice.
Met officers are all used to navigating challenging situations that require good judgement and, in many ways, this is no different. Whilst the circumstances we are dealing with are unprecedented and fast moving, we will be working alongside you to keep people safe and encourage everyone to play their part in this significant national response to reduce the impact of COVID-19.
I would like to end this note by saying thank-you for the support and good wishes of partners, stakeholders, and most importantly the general public. It is in times of adversity that we see the best in each other.
Thank you,
Sally Benatar, Borough Commander