Keeping our parks and open spaces safe
Date: Tuesday 14 April 2020
Author: Parkguard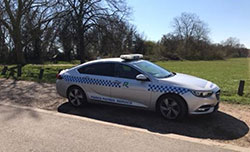 Council key workers and our partners are determined to keep the borough moving during this difficult time.
This week, the Parkguard Service has explained how it is helping to keep the borough's parks and open spaces safe:
We are the Parkguard and we deliver the parks patrol service across Richmond's parks and open spaces, tackling anti-social behaviour and ensuring the parks and open spaces are safe and enjoyable places for residents.
We patrol in Richmond upon Thames seven days a week with a combination of early and late shifts, depending on our patrol plans and the specific issues at certain locations.
Our service is important during the pandemic as we are reinforcing the government guidelines on social distancing and staying at home. Parks and open spaces are key areas where this guidance is so vitally important, so we are working hard to make sure people are staying safe. Our high visibility patrols also provide reassurance to residents that the stay at home message and social distancing guidance is being delivered.
The key challenge we face at the moment is the increasing number of park and open spaces locations that need to be patrolled during this difficult time. We engage with many different people on a daily basis and apply the 2m social distancing guideline during all engagements to ensure the safety of park users and our staff.
Unfortunately, we have had to advise and disperse many groups of people since the Government guidelines were introduced who were not complying. We have used this information to identify areas where ongoing patrols are required.
We are working extremely hard to make sure Richmond's parks and open spaces remain safe and enjoyable spaces, please help us with this by following government guidelines.