A letter from Chief Superintendent Sally Benatar: Phone scams and #YouAreNotAlone
Date: Wednesday 15 April 2020
Author: Sally Benatar, South West Borough Commander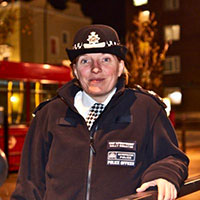 Dear all,
Over the bank holiday weekend, our officers patrolled their beat, as well as open parks and spaces to ensure that the Health Protection Legislation was adhered to.
I am very pleased to report that the majority of people followed the government advice and stayed home this weekend. I have seen numerous photographs taken by officers of empty parks and open spaces across the borough: a stark contrast to the week before. Where officers did need to engage to remind people of the legislation, they were overwhelmingly polite and cooperative.
Please pass on my thanks to your local communities for following social distancing guidelines and staying at home to save lives.
Whilst police officers were patrolling our four boroughs, Metropolitan Police volunteers took to the streets of London (whilst socially distancing) to deliver a crime prevention booklet called the Little Book of Phone Scams. This is a document produced by the Met's Cyber Crime and Fraud Unit, to help protect those who may be vulnerable to falling victim to scams. Commander Catherine Roper accompanied volunteers in Teddington to deliver almost 2,000 copies of the booklet. 
Lastly, I wanted to draw to your attention the Government public awareness campaign called #YouAreNotAlone. It aims to reassure those affected by domestic abuse that support services remain available during this difficult time. View further information about how to get help. Please share this with your friends, family and neighbours, alongside the 24/7 National Domestic Abuse helpline number: 0808 2000 247.
Please call 999 if you see or hear domestic abuse.